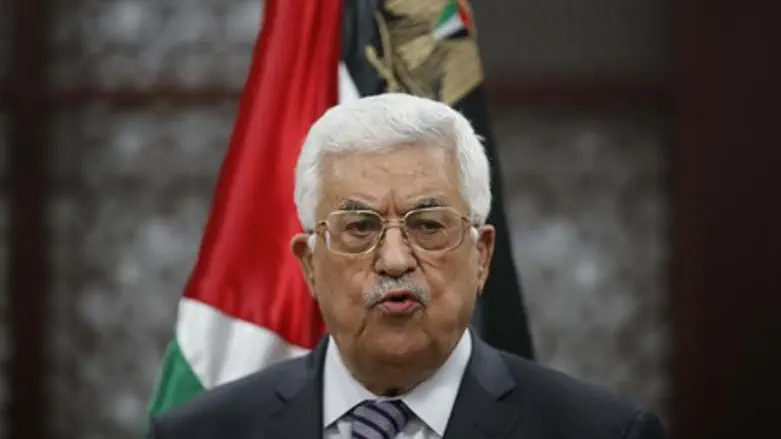 PA chairman Mahmoud Abbas
Flash 90
The Palestinian Authority (PA) on Sunday said direct payments by Iran to the families of terrorists killed in a five-month wave of Palestinian terror would not be received - unless they went through the PA's auspices.
Iran's ambassador to Lebanon Mohammad Fathali last Wednesday said that Tehran would offer $7,000 to the families of each Palestinian terrorist killed in what he called the "Jerusalem intifada," but the PA says such aid must follow "official channels."
PA presidency spokesman Nabil Abu Rudeina, cited by local media, said bypassing the authority in handing out such funds would constitute illegal interference in internal Palestinian affairs.
Iran should "send this money through official channels to the (PA's) Martyrs and Prisoners Foundation rather than relying on informal and circuitous routes," Abu Rudeina said.
In addition to the $7,000 to the families of each terrorist, Iran will give $30,000 to every family of a terrorist murderer who had their homes demolished by the IDF in a counter-terror deterrent move, according to Fathali who spoke at a news conference in Beirut.
The money pledged is in addition to the monthly aid paid since 1987 by an Iranian institution to families of killed Palestinian terrorists, he said.
Iran, which recently enjoyed a windfall of around $150 billion in the easing of nuclear sanctions, has long provided military and financial support to the Hamas terrorist organization in Gaza, and its Shi'ite terror proxy Hezbollah in Lebanon.
Palestinian economists have questioned whether Iran would be capable of distributing the aid to the families directly via banks, or whether such transfers would be blocked as terrorism financing.
Responding to the Iranian promise last Thursday, Prime Minister Binyamin Netanyahu said, "this shows that Iran, even after the nuclear agreement, is continuing to aid terrorism, including Palestinian terrorism, Hezbollah terrorism and its assistance to Hamas."
AFP contributed to this report.