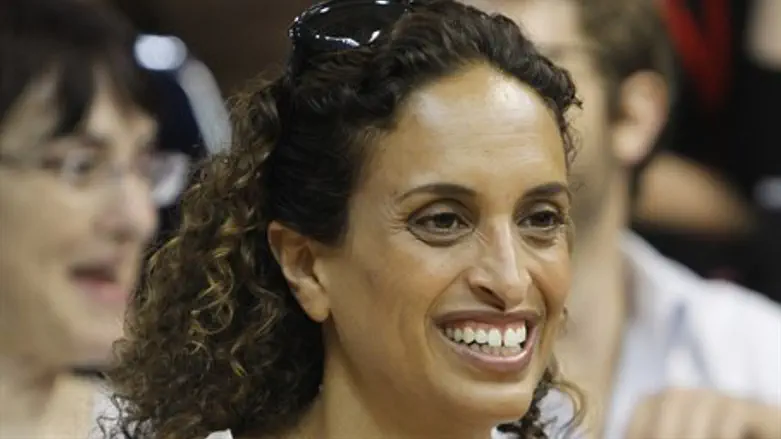 Achinoam Nini
Miriam Alster/Flash 90
JNF Canada on Thursday issued a statement clarifying its position with regards to a Yom Ha'atzmaut celebration in Vancouver, in which Israeli singer Achinoam Nini was scheduled to perform.
JNF cancelled its financial support for the celebration in Vancouver, reportedly because of fury by Jewish Canadians following Nini's recent leftist statements.
The Israeli Embassy in Canada later said it would sponsor the concert in Vancouver in which Nini would perform.
The concert is scheduled to take place May 11.
In its statement Thursday, JNF Canada stressed that it "strongly believes in fostering unity within all communities across Canada and a strong unified connection with the State of Israel" but also noted that it was "concerned" over Nini being chosen to perform at the concert in Vancouver due to the fact that she "has generated divisiveness both in Israel and throughout diaspora communities.
"We consulted with Keren Keyemeth LeIsrael senior staff, JNF Canada and JNF Pacific Region leadership to discuss our responsibility to our constituency, many of whom had expressed discomfort with the artist's views and organizational affiliations. At no time did we claim that the artist supported BDS. We contacted JFGV and agreed to disagree on the choice of entertainment and respectfully decided to take a one-year hiatus from sponsorship of the event," it added.
"We want to be absolutely clear that JNF Canada is not protesting, boycotting, delegitimizing or censoring this event. After hearing from so many of our donors, we simply are not comfortable using charitable funds to support this particular artist," JNF Canada explained.
"JNF respects Judaism's rich tradition of debate and dissent. Nevertheless, we hold Jewish community harmony as our utmost priority; we want to make it clear that while we have had disagreement around one choice of entertainment for an event, we look forward to continue working with Federations from coast to coast, especially celebrating Yom Ha'atzmaut together in Vancouver in 2017. We remain committed in our support for Israel, all of her citizens and all of the organizations who share our goals," it added.
Nini is known for her extreme leftist views and has in the past consistently attacked Prime Minister Binyamin Netanyahu.
In recent months she made headlines over her boycott of Israeli singer Ariel Zilber due to his rightist views.
She recently announced her intention to quit the Israeli Union of Performing Artists (IUPA) following its decision to honor Zilber with a lifetime achievement award. 
Similarly last year, when Zilber was due to win a lifetime achievement prize from ACUM (Union of Composers, Writers and Publishers in Israeli Music), Nini announced she would not accept a prize from ACUM so long as Zilber was being honored as well.
At the last moment ACUM chose to change Zilber's award from a lifetime achievement award to a "contribution to music" prize, under pressure from Dalia Rabin, daughter of assassinated Prime Minister Yitzhak Rabin. Rabin, a member of ACUM's board of directors, like Nini expressed fierce opposition to Zilber because of his right-wing religious political stance.