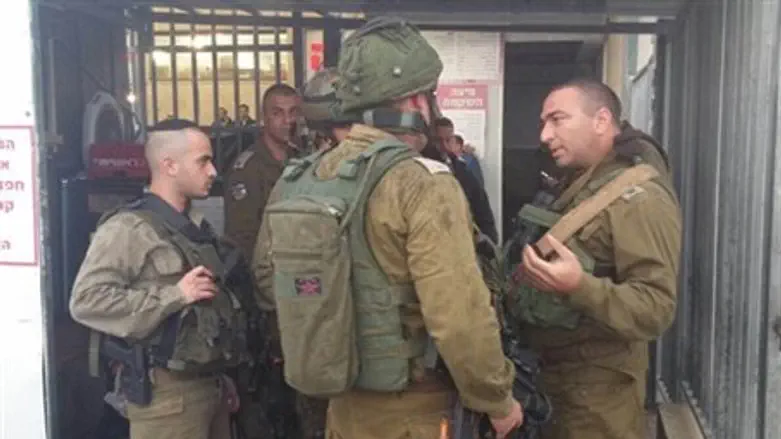 Binyamin Brigade at Sha'ar Binyamin industrial zone
Photo: IDF spokesperson
A week after the terror attack at the Rami Levy supermarket in Sha'ar Binyamin, which claimed the life of Tuvia Yanai Weissman, the IDF decided to prohibit entry to Palestinians under the age of 25 without a special working permit inside the Sha'ar Binyamin industrial zone.
According reports, Palestinians over the age of 25 may enter the industrial zone only after undergoing a security check. Additionally, refined security procedures have been implemented as well as an increase of security guards to protect the entrances to the compound.
In the recent days following the terror attack, there has been a substantial decrease in the number of customers shopping in Sha'ar Binyamin compound, and an increase in suppliers refusing to deliver goods.
Sharon Kalif, owner of the "Pisgat Hashulchan" shop in the compound, told Arutz Sheva that the store is empty and people are afraid to come, "Beyond fear, I also received calls from customers who say they do not intend to enter the compound to protest the Arabs that are allowed enter. It's hard to hear such comments. Some even suggested I close my shop in protest, but of course I did not."
"We demand more security, and have been asking this for a long time," explained Kalif, "It will be good for everyone, we want to move forward but since the terror attack all we hear is criticism. It hurts us that the murder was here, but we'll continue to be here and we thank everyone who cares and comes out".
Nathaniel Kizelstein, shop owner of "Al Hamishkal" said that he feels a change in the customers. "No one just walks around the shops anymore, there is a great sense of concern in the air. We offer customers to come in spite of everything and not let terrorism win, but in order to make life easier for our customers, we offer home deliveries to those too fearful to come out".