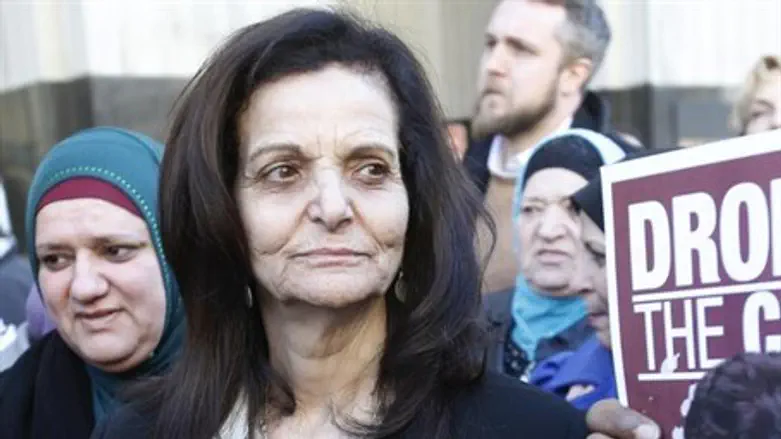 Rasmieh Odeh (file)
Reuters
A US court is giving a second chance to Arab terrorist Rasmieh Odeh's claim abuse in an Israeli jail caused her to lie to US immigration authorities about her terrorist past.
The Sixth Circuit Court of Appeals on Thursday remanded her 2014 immigration fraud conviction back to district court to reconsider whether a psychologist's testimony about alleged post-traumatic stress is admissible, according to The Investigative Project on Terrorism (IPT).
Odeh was convicted of bombing a Jerusalem grocery store and a British Consulate building on behalf of the PFLP terror group in 1969. The grocery store attack murdered Hebrew University students Leon Kanner and Edward Joffe.
She was released from Israeli jail in a prisoner exchange in 1979 and came to the US in 1995. When she applied for naturalization as a United States citizen in 2004, she lied and claimed she never had been arrested or convicted of a crime.
In 2014, she was sentenced to 18 months in prison after being found guilty of immigration fraud in a Detroit federal court, with federal prosecutors noting she failed to reveal her criminal history when she immigrated from Jordan in 1995, and again when she was naturalized as a US citizen in 2004.
District Judge Gershwin Drain handed down the sentence in a packed courtroom, calling Odeh a liar and a terrorist. Additionally, the judge revoked Odeh's American citizenship. She was to be deported at the conclusion of her sentence.
Repressed memories
Odeh's defense said that psychologist Mary Fabri would testify that Odeh was tortured by Israeli military authorities and therefore repressed memories of her conviction and time in Israeli custody. District Judge Gershwin A. Drain ruled that the testimony wasn't relevant due to the nature of the crime, but the circuit court disagreed.
"Dr. Fabri's proffered testimony is relevant to whether Odeh knew that her statements were false. The district court accordingly erred in categorically excluding this testimony," 6th Circuit Judge John Rogers wrote.
The ruling could lead to a new trial for Odeh, unless the government or the defense appeals the decision to the full bench of the 6th Circuit or the Supreme Court.
And yet, the circuit court said that the psychologist's testimony might be prohibited for other reasons:
"We do not address other possible bases for excluding the evidence, under evidentiary standards such as those identified by the district court in its order discussing the use of PTSD testimony in federal and state courts," the Sixth Circuit opinion said. "Nor do we prescribe whether a new trial would be required once the evidentiary determination has been made."
The psychologist's testimony "is not categorically barred," the ruling said, but the opinion does not guarantee a new trial, either.
IPT cited Harold Joffe, the brother of Edward Joffe, who was murdered in the grocery store bombing, as calling the Sixth Circuit opinion "clearly disappointing." Defense attorney Michael Deutsch welcomed the ruling, telling Politico he was "happy and pleased."
If Drain determines the psychologist's testimony is inadmissible on other grounds, the error could be considered harmless and the jury's guilty verdicts would stand. If the testimony now is found to be admissible, Odeh would receive a new trial.
Odeh's torture claim is based solely on her word. In addition, as Cornell University Law Professor William Jacobson wrote last year, Odeh "confessed the day after arrest" by Israeli officials, before any alleged abuse would have taken place. Odeh's claim is that she broke after 25 days of torture.