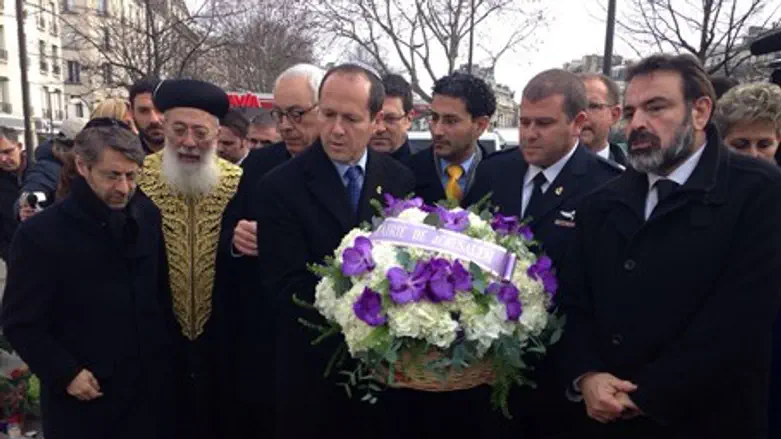 Jerusalem delegation for Paris supermarket
Photo: Municipality spokesperson
Just over a year has passed since the terrible attack on the Hypercacher supermarket in Paris which claimed the lives of Francois-Michel Saada, Philippe Braham, Yoav Hattab and Yohan Cohen.
A memorial event is set to be held on Monday at the Bais Chaya Mushka School in the 19th district in Paris, not far from the site of the attack. Rabbis, public figures, dignitaries and the families of the victims will gather for a "Hachnasat Sefer Torah" (Inauguration of a Torah scroll) ceremony for two new Torah scrolls.
The scrolls were donated by Jews in Israel through the "Va'ad Olami"(world council) organization and will be placed in their new home in the French community's synagogue.
Many Israeli's participated in the writing of the letters in the Torah scrolls including rabbis and senior government officials such as Israel's president, prime minister, defense minister and more.
"It is exciting and heat-warming that the Jews of Israel who did not even know the victims performed a big mitzvah (righteous act) and purchased letters in the Torah for the salvation of their souls. We are grateful to the 'Va'ad Olami' organization for reinforcing the values of mutual responsibility and brotherhood between the Jews of Israel and France in all of us. This is not an easy time and only love and unity will give us power," said the synagogue's rabbi, Rabbi Peretz Braham, a brother of one of the victims killed in the attack.
During the ceremony, a blessing from Prime Minister Binyamin Netanyahu for the Jews in France will be projected. "The tragedy in France hit the entire Jewish world very hard and we decided to take the initiative and do something in memory of the martyrs," said the organization.
"We are pleased and excited about the privilege to bridge the citizens of Israel, who contributed and donated the Torah scrolls, to the Jewish community in France. We are brothers. Islamic terrorism seeks to hurt all of us. We pray and hope these Torah's will preserve and protect our brothers in France and the whole of Israel."