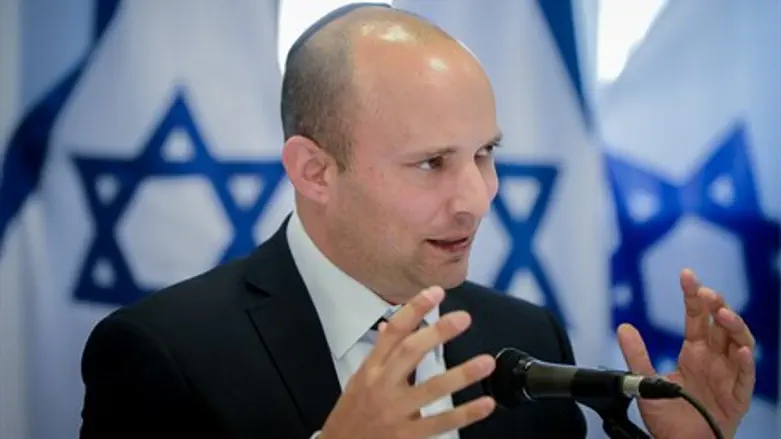 Naftali Bennett
Flash 90
Education Minister and Jewish Home chairperson Naftali Bennett gave surprising support to IDF Chief of Staff Gadi Eizenkot on Saturday after the latter called a famed Talmudic dictum a "slogan," but Bennett apparently felt the need to defend the comments again Sunday.
Speaking to high schoolers in Bat Yam, Eizenkot had defended the exceedingly strict open-fire procedures by making an unusual statement, saying IDF soldiers must not "empty magazines" into a 13-year-old female terrorist wielding scissors and trying to stab victims.
He also disparaged a famous Talmudic maxim on self-defense, saying "the IDF cannot speak in slogans like 'when someone comes to kill you – kill him first.'"
Speaking in an interview with host Nissim Mishal on the "Non-Stop Radio" show, Bennett said that Eizenkot "said something obvious, when there's life-threatening danger you need to open fire to harm, but if there is no life-threatening danger you don't need to do that. We need to praise Israeli civilians who create contact with terrorists and don't run, and Israeli police and IDF soldiers, for their outstanding conduct in terms of ethics, but also offense against the enemy."
Bennett's words echo those of Prime Minister Binyamin Netanyahu, who on Sunday said Eizenkot "merely stated the obvious; and regardless, this is how the army and security forces function."
Despite Eizenkot having called the Talmudic teaching of the Jewish sages a "slogan," Bennett claimed Eizenkot in fact supports the teaching, saying, "the Chief of Staff backs the concept of 'when someone comes to kill you - kill him first.'"
"He also said clearly that if someone endangers the life of an Israeli you need to harm them, to open fire on them. There is also criticism as if the Chief of Staff belittles the holy ones of Israel. I know him, he himself is very close to the tradition and he doesn't need to be accused of that either. This is a tempest in a teacup."
In defending Eizenkot, Bennett said his comments "didn't say anything new, I don't understand the storm so much." He called Eizenkot "a breath of fresh air, and much more than that," and urged to give him backing.
Eizenkot's comments upset many coalition members from Likud and Bennett's own Jewish Home party. 
Internal Security Minister Gilad Erdan (Likud) slammed the comments last Friday, clarifying that "one thing was missing in the story over the Chief of Staff's comments about not needing to empty a magazine into a 13-year-old female youth with scissors: no one noted that it never happened."
Transportation Minister Yisrael Katz (Likud) also attacked the comments last Thursday, suggesting Eizenkot's comments could harm the ability of soldiers and civilians to respond with the required force to terror attacks.
MK Bezalel Smotrich (Jewish Home) urged Defense Minister Moshe Ya'alon (Likud) to summon Eizenkot for questioning, but Ya'alon refused, saying "we must not lose our humanity."
In his comments Sunday Bennett also outlined several steps for combating the current wave of Arab terror attacks that has been raging since last September.
He called to go after the surroundings of a terrorist who commits an attack, saying if there are illegal buildings in the village of such a terrorist they should be demolished after the attack. Activists have documented countless illegal Arab buildings in Judea and Samaria which the government is not acting to destroy, in many cases despite existing demolition orders.
Bennett also called to bury terrorists in anonymous cemeteries as was done in the past - an idea raised last October by Erdan as part of his opposition to the return of the bodies of terrorists allowing them to be lauded as heroes in massive funerals.
Bennett also urged that there be security inspections on every house in the village of a terrorist after an attack is committed.