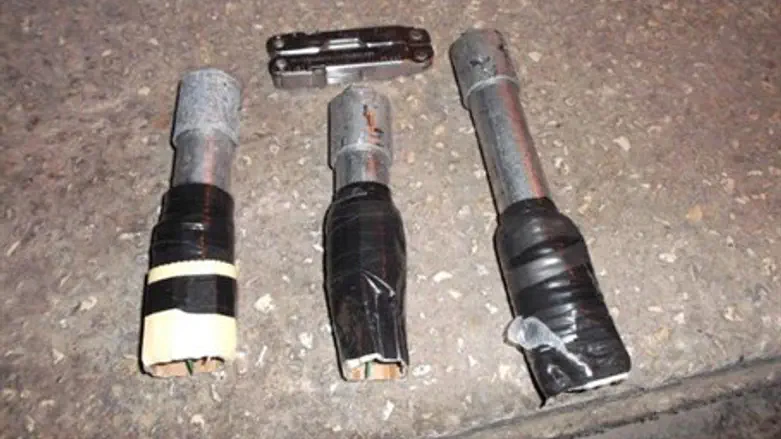 Pipe bombs (file)
Police Spokesperson Unit
Police reported on Thursday evening that two Arab suspects were arrested during a routine security check of a bus driving through a checkpoint, after it was discovered they were carrying explosives.
The arrest came as Border Police officers were checking a bus passing through Al-Zaim Checkpoint near Ma'ale Adumim to the east of Jerusalem, as it headed towards the capital.
The officers stationed at the checkpoint had their suspicions aroused by two Arab passengers, who they proceeded to check more thoroughly.
During the inspection, the officers found two suspected pipe bombs among their personal belongings.
Both of the suspects were arrested, and a bomb-squad member was dispatched to the scene to deactivate the explosives.
Al-Zaim Checkpoint was the scene on Saturday evening of an attempted smuggling attempt in which two Arabs from Judea and Samaria breached the security fence and were picked up by an Israeli Arab waiting for them in a car.
Security members caught on to the smuggling attempt, and the incident ended in an car ramming attack as the Arab terrorists lightly wounded four Border Police officers, before two of them were shot and all three were arrested.
Thursday's explosive smuggling comes just shortly after a stabbing attack at the Rami Levy supermarket in Sha'ar Binyamin Industrial Zone, in which a 21-year-old was murdered and a 36-year-old was moderately wounded while shopping. The two attackers, 14-year-old Arab terrorists from nearby Bitunia, were shot by a civilian and arrested.