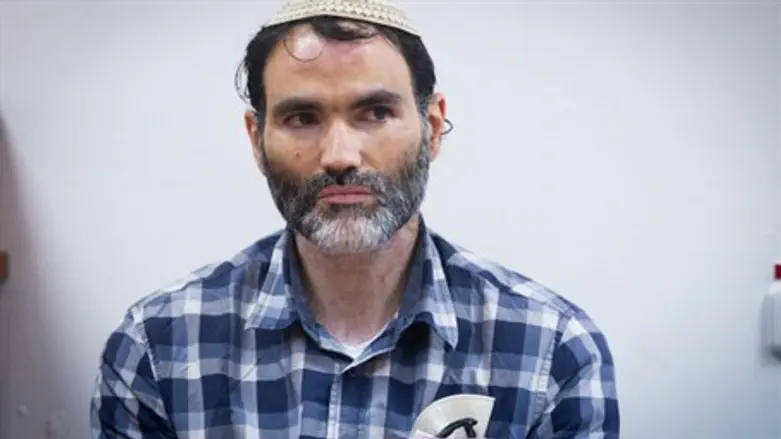 Chaim Biton
Miriam Alster/Flash 90
Chaim Biton, the Egged bus driver involved in the lethal crash on Highway 1 this Sunday in which six passengers were killed, was released to 21-days of house arrest on Wednesday.
The driver was required to deposit bail and likewise hand over his passport. He was given a stay of exit order forbidding him from leaving Israel.
Police are advancing their investigation and intend to submit an indictment against Biton during his time in house arrest. He had been arrested on Monday, and has a questionable record having hit a truck in 2013 and caused injuries to his passengers.
Biton is suspected of negligent manslaughter and disrupting investigative procedures, after the police found that he tampered with the tachograph "black box" of the bus seconds after the crash, even as the bodies were still laid on the ground.
Police also fear that Biton was using his cell phone at the time of the crash, distracting him from the truck stopped at the side of the road but still jutting into the traffic lane that he collided into.
Earlier on Wednesday Assaf HaRofeh Medical Center reported that 20-year-old Sarah Sperling, who was to be married in two weeks before being seriously and horrifically wounded in the crash, has healed significantly.
Her condition was updated from seriously wounded to moderate and stable, and on Wednesday she underwent another surgery. Many groups have been praying for the recovery of the bride-to-be Sarah bat Dina.
A full six passengers were killed in the nightmarish crash, including Ya'akov Meir Heshin (27) and Yisrael Weinberg (26), Leah Malmud (61), Aharon Mordechai Cohen (18), Chaya Pasha Frenkel (23), and Levy Yitzhak Amdadi (17).