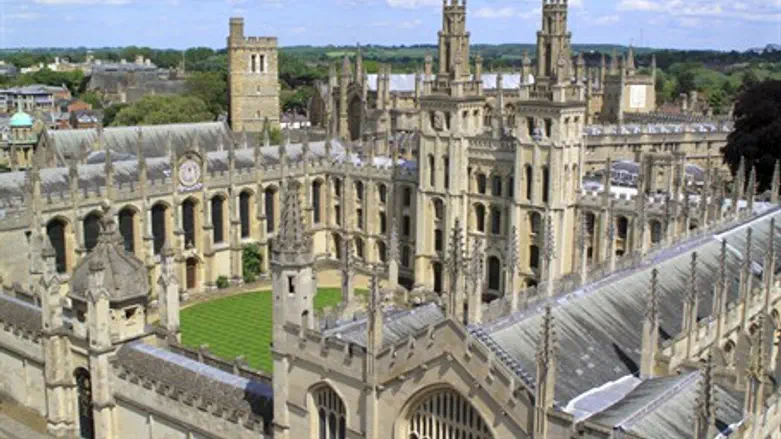 Oxford University (file)
iStock
Following the high-profile resignation of a senior student union leader at Britain's prestigious Oxford University, over what he described as rampant anti-Semitism among "the student left," further disturbing details of endemic anti-Semitism at the university has come to light.
Alex Chalmers - who isn't Jewish himself - resigned as Co-Chair of the left-wing Oxford University Labor Club (OULC), specifically in light of the Club's decision to endorse "Israel Apartheid Week," but more generally due to an alarming growth in anti-Semitic incidents emanating from leftist students on campus.
But in making such a public stand - his Facebook post explaining why he resigned has since gone viral - Chalmers' actions have since encouraged scores of Jewish students to come forward with their own worrying testimonies of anti-Semitism. 
According to Oxford Jewish Society (JSoc), incidents range from endemic casual anti-Semitism, conspiracy theories and name-calling, to organized campaigns of harassment and bullying.
The following is a post shared Tuesday night by Oxford JSoc describing the testimony:
OULC has become increasingly dominated by the radical student left in recent weeks and months. This has been accompanied by a series of anti-semitic statements and incidents. Following Alex Chalmers' resignation, other OULC members have approached Oxford University Jewish Society with reports of these incidents, which are documented below:

• Several people, all of whom have been on committee, have been known to sing the song 'Rockets over Tel Aviv' and have specifically expressed support for Hamas' tactic of launching indiscriminate attacks against Israel's Jewish citizens.

• One member stated specifically that it was 'not anti-Semitic' to allege the existence of a 'New York – Tel Aviv axis' that rigs elections, and said that 'we should be aware of the influence wielded over elections by high net-worth Jewish individuals'. He also stated that it was 'not anti-Semitic' to allege the existence of an international Jewish conspiracy, even though he did not endorse the idea himself.

• One member, then on committee, stated that all Jews should be expected to publicly denounce Zionism and the state of Israel, and that we should not associate with any Jew who fails to do so.

• Several individuals, some who have been on committee, repeatedly used the word 'Zio' (a word normally only found on neo-Nazi websites) to refer to Jewish students.

• Several members have alleged that US foreign policy is under the control of the 'Zionist Lobby' and when asked if by 'Zionist' they simply meant 'Jewish' they went very silent.

• One member of OULC was formally disciplined by their College for organising a group of students to harass a Jewish student and to shout 'filthy Zionist' whenever they saw her.

• In a public discussion on the OULC Facebook group one member argued that Hamas was justified in its policy of killing Jewish civilians and claimed that all Jews were legitimate targets. Several other members, including two former co-chairs and one then on committee, defended the member as making 'a legitimate point clumsily expressed'.

• Two members of OULC argued that Jenny Tonge, a peer expelled from the Liberal Democrats over anti-Semitism, should be encouraged to join the Labour Party.

Oxford JSoc is appalled by these reports and remains steadfast in its opposition to anti-semitism of any kind. If you are affected by any of these issues and would like to speak to someone, Oxford University Jewish Society and Oxford Jewish Chaplaincy are here to support you.
Arutz Sheva has reached out to the student union and senior officials at Oxford University for comment. Any responses received will be published.