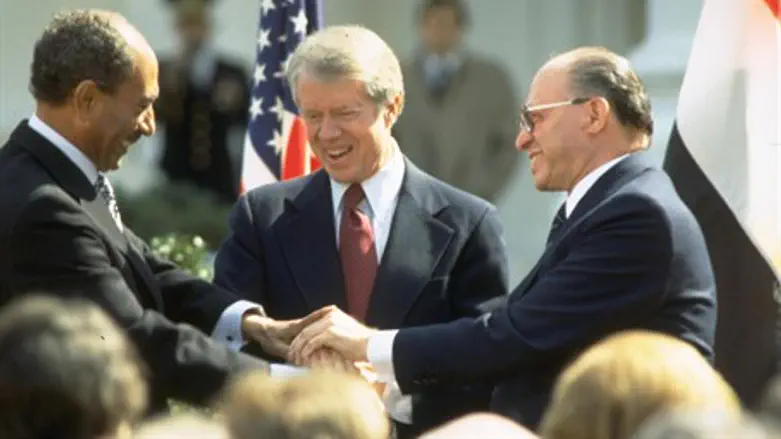 Begin (R) and Sadat (L) in famous post-treaty handshake
Tal Shabtai/Wikimedia Commons
Egyptian schools are to begin teaching about Egypt's 1979 peace treaty with Israel for the first time, as part of the new national curriculum.
Even more significantly, according to a report on Army Radio Wednesday morning, the curriculum is purely fact-based and does not stray into the aggressive, biased characterizations of Israel as a criminal or evil entity.
The text in question is meant for ninth grade students, but is part of a wider overhaul of the Egyptian national curriculum by the country's President Abdel Fatah al-Sisi. It outlines the eight points of the historic treaty verbatim, including Clause 2 - "to end the state of war between Egypt and Israel and to solve all disputes in a peaceful fashion" - and Clause 3 - that "all sides should respect the sovereignty and independence of the other side."
It also notes that then-Egyptian President Anwar Sadat and Israeli Prime Minister Menachem Begin received the Nobel Peace Prize for "the great effort they invested in reaching peace in the Middle East."
Other changes in the national curriculum including sidelining the role played by former President Hosni Mubarak - who was ousted in a 2011 coup - as a general in the 1973 Yom Kippur War.
Sisi has also moved to delete entirely certain aspects of the curriculum inserted by the previous, Islamist regime of Mohammed Morsi, which included Muslim Brotherhood ideology and tracts stressing the need for Egyptians to "return to Islamic values."
Since Sisi took power in 2014, he has presided both over a major crackdown on jihadist and other Islamist groups - including the Brotherhood and its ideological cousins Hamas - as well as a strategic shift towards greater cooperation with Israel against mutual threats from Islamist terrorism.