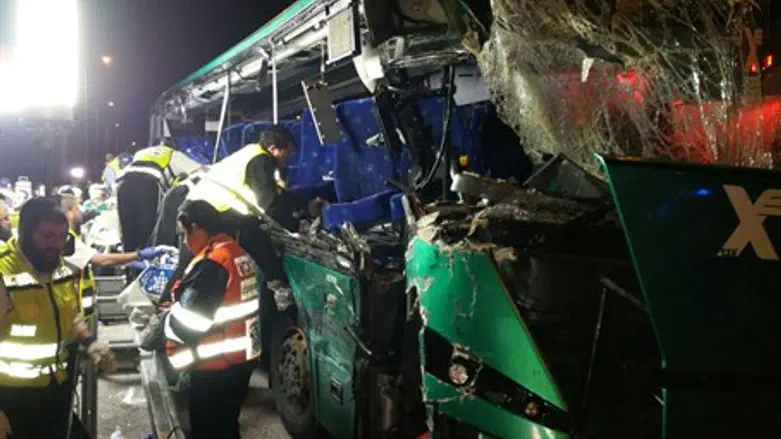 Lethal Highway 1 crash
Arutz Sheva
The condition of Sarah Sperling - the 20-year-old who was to be married in two weeks before suffering serious and horrific injuries in the lethal Egged bus crash on Highway 1 this Sunday - improved significantly on Wednesday.
Sperling is hospitalized at Assaf HaRofeh Medical Center, and on Wednesday she is to undergo an additional surgery.
The hospital announced on Wednesday morning that she currently is classified as moderately wounded and is in stable condition. She remains on artificial respiration and put to sleep with anesthetics.
Many groups have been praying for the recovery of the bride-to-be Sarah bat Dina.
A full six passengers were killed in the nightmarish crash, including Ya'akov Meir Heshin (27) and Yisrael Weinberg (26), Leah Malmud (61), Aharon Mordechai Cohen (18), Chaya Pasha Frenkel (23), and Levy Yitzhak Amdadi (17).
The bus driver, Chaim Biton, was arrested early Monday morning on suspicion of negligent manslaughter in the crash, after he hit a truck stopped on the side of the highway which was jutting into the traffic lane. Back in 2013 he similarly hit a truck and caused several injuries near the Shoresh Interchange.
The traffic police are continuing their investigation of the crash. Maj. Gen. Yaron Be'eri, head of the police's traffic department, said on Tuesday that Biton tampered with the bus's black box even as the dead victims of the crash were laid out before him.
"Shortly after the crash, even as the bodies were laid out and the wounded were shouting, the driver found his way towards the tachograph, and did several activities which we are currently checking what their impact was," said Be'eri.
A tachograph is a device installed on buses registering a history log of recent activity of the vehicle and the driver, such as the driving speed, driving hours, rest hours and details on the driver.
A commander in the traffic police also spoke about how cell phone usage often leads to serious traffic accidents, amid suspicions that Biton was using his phone at the time of the crash.
"We all transgress in driving while being distracted. We're all in our phones. People who use a smart phone - that smart phone kills them. We see those killed in traffic accidents with the phone in their hands, we see in investigation that they were using their cell phones," said the commander.
Addressing the lethal bus crash, Transportation Minister Yisrael Katz (Likud) argued that "the bus driver drove with criminal negligence and he needs to be held responsible. With all due respect, a driver needs to be responsible for his driving."
"We must not relieve the drivers from responsibility and therefore we will work in the government to bring in life-saving warning devices. According to all research, when there are these sensors present there is a reduction in the number of wounded."