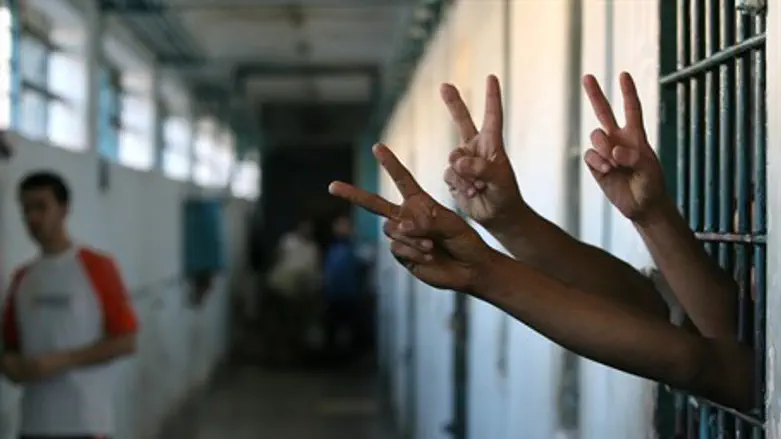 Terrorist prisoners (illustration)
Flash 90
Israel's Supreme Court on Tuesday ruled that a Palestinian Arab hunger striker who has fasted over 80 days must stay in the northern Israeli hospital where he is being held, after a compromise bid failed.
"The court refused the request of Mohammed al-Qiq and will leave him in the hospital in Afula," his lawyer Jawad Boulos said in a statement quoted by AFP.
Qiq, a 33-year-old journalist, is reported to be close to death 84 days after starting a hunger strike in protest against his internment without trial under Israel's administrative detention laws.
Qiq was arrested on November 21, 2015 in Ramallah due to suspicions of involvement with Hamas. Qiq denies that he is involved in activity for Hamas, although he has previously been arrested for Hamas activity.
He has occasionally taken minerals and vitamins but mainly ingests only tap water, doctors who have visited him say.
The Supreme Court officially suspended the administrative detention order against Qiq on February 4, but also ruled he would need permission to leave the hospital. He in response said he would continue his hunger strike until he is completely freed.
On Monday, the court offered a compromise whereby he would be moved to the Palestinian-run Makassed hospital in eastern Jerusalem instead of Ramallah where he demanded to be moved.
Afou Agbaria, an Arab Israeli former MK and physician who visited Qiq in Afula, said he turned down the proposal.
"He refuses to be cared for in Makassed because it is located under Israeli sovereignty and he says he will not be retained in custody," he told AFP.
"He said, 'It's death or freedom, and if Israeli security has something against me, it must bring me to justice, rather than hold me under administrative detention without trial or charge'," added Agbaria.