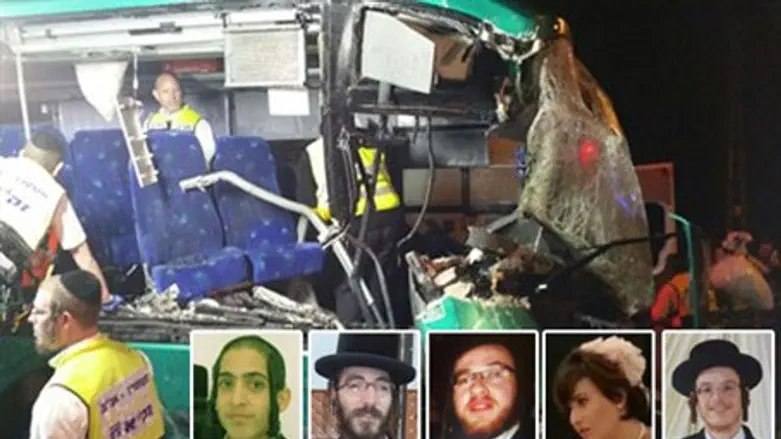 Highway 1 bus crash victims
Arutz Sheva
Ya'akov Meir Heshin (27) and Yisrael Weinberg (26), two of the six victims killed in the horrific Egged bus line 402 crash on Sunday night, were laid to rest on Monday at Har Hamenuchot Cemetery in Jerusalem as hundreds came to pay their last respects.
ישראל וינברג ז"ל מובא למנוחות
The bus was on its way from the capital to Bnei Brak when it hit a truck stopped at the side of the road that was jutting into the traffic lane, at Anava Junction to the east of Modi'in on Highway 1.
Police brought in for questioning the driver of the truck, an Arab in his forties from eastern Jerusalem, as well as the bus driver who was arrested early Monday morning on suspicion of negligent manslaughter. Police suspect he may have been using his phone and therefore did not notice the truck - the same driver back in 2013 similarly hit a truck and caused several injuries near the Shoresh Interchange.
Aside from Heshin and Weinberg, the other victims have been identified as 61-year-old Leah Malmud, 18-year-old Aharon Mordechai Cohen, 23-year-old Chaya Pasha Frenkel, and 17-year-old Levy Yitzhak Amdadi.
Among the wounded was Sarah Sperling, a 20-year-old who was to be married in two weeks, and who is currently receiving care for her serious injuries at Assaf HaRofeh Medical Center.