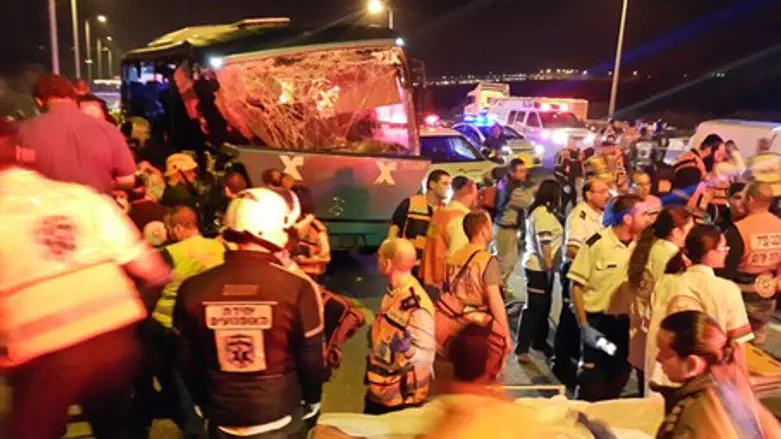 Highway 1 accident
Uri Davis, United Hatzalah
Yitzhak Ze'ev Even, who was lightly injured in Sunday's fatal accident between a bus and a truck on Highway 1, recalled the terrible moments of the accident, in which six people were killed.
"I felt the bus being hit, I did not understand what happened," said Ze'ev Even, who was taken for treatment at the Tel Hashomer Hospital. "I was sitting on the left side of the bus, behind the driver, and was reading a book. There was a crash, and I fell on the floor. The man to my right, with whom I had spoken [earlier, before the crash] lay on the floor. I tried to shake him but he did not respond."
"I tried to wake him but was unsuccessful; I got off the bus and there were a lot of cars which stopped immediately and gave us water," he continued. "The bus was completely smashed. Thank G-d, I survived. After the accident I did not see the driver, but during the trip he was driving safely and I trusted him."
"I said 'Shema Yisrael' a lot," continued Ze'ev Even. "I do not travel on this route a lot, it is mostly a haredi route - men sit in front and women in the back. When I put a hand to my face I saw blood and I was scared but I was fine."
"With G-d's help everything will be fine, I just have a sore jaw and some bleeding," he added.
Four of the six people who were killed in the crash have been identified: Ya'akov Meir Heshin, 27; Yisrael Weinberg, 26; Chaya Frenkel, 23; and Levy Yitzhak Amdadi, 17.
ZAKA emergency services spokesperson Moti Bokchin, who was among the first to arrive at the scene of the lethal crash, recalled what he saw in a conversation with Arutz Sheva.
"The place looked like a battlefield, some of them (the victims) flew from the bus, some of them were crushed to death," he said.
Medics had noted that a number of the victims were trapped in the bus, apparently as it crushed on impact with the truck that was standing on the side of the road jutting into the lane.