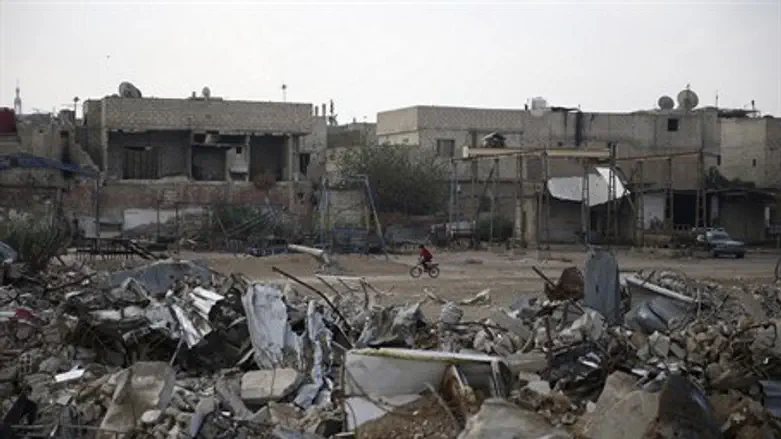 Damaged buildings in the town of Douma, Eastern Ghouta
Reuters
A convoy carrying medical aid on Saturday entered the besieged rebel-controlled Douma area, a flashpoint near the Syrian capital, the Red Crescent said.
The aid consists of medicines and also milk for children, said Syrian Red Crescent director of operations Hazem Bakla, quoted by state news agency SANA.
The United Nations Office for the Coordination of Humanitarian Affairs (OCHA) confirmed the aid delivery to Douma in the Eastern Ghouta, a rebel stronghold east of Damascus besieged since 2013.
According to UN figures, some 486,700 people in Syria currently live in areas besieged by either government or rebel forces.
Scores are reported to have died of malnutrition or because of a lack of medical treatment.
On Friday, the world body said it hoped to deliver aid to people in besieged Syrian cities "without delay", after world powers agreed on a plan to cease hostilities in the war-wracked country.
The United Nations has said that only around a dozen of 116 access requests to reach people in need have been granted by the Syrian authorities.
The United States and Russia agreed Friday in Munich on a "cessation of hostilities" in Syria within a week with the aim of relaunching the peace process and halting the exodus of civilians.
The two countries and their main allies within the International Syria Support Group also agreed on "immediate" access to humanitarian aid for needy civilians.
AFP contributed to this report.