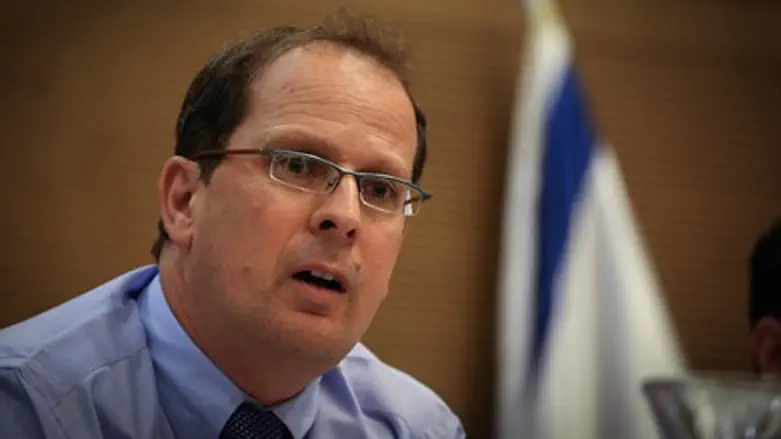 Raz Nizri
Hadas Parush/Flash 90
Families and supporters of the youthful Jewish suspects who were allegedly tortured by the Israeli Security Agency (ISA) as part of the investigation into last July's lethal Duma arson protested Saturday night in front of the home of Deputy Attorney General Raz Nizri.
Demonstrating in front of his home on Hanasi Street in Givat Shmuel, located to the east of Tel Aviv, the family members and supporters of the suspects demanded that Nizri resign.
"Nizri tortures Jews," chanted the family members and around 60 other protesters, adding: "you tortured, resign!"
"Nizri wasn't only a full partner to the torture, but rather heard of it directly in real time from those who were tortured and hid it and lied to the public. Nizri must be held accountable," said one of the protesters.
Just two weeks ago on Thursday records from Nizri's visit to see the suspects last December were exposed, revealing that they gave him detailed testimony of the alleged torture they were being exposed to, but he chose to cover up the torture in public statements and not take any action, claiming the suspects were in "good condition."
Families of Duma suspects protest
"Jews don't torture Jews" HQ
Nizri last Tuesday took part in the Jerusalem Conference, where nationalist activist and former Kedumim Regional Council head Daniella Weiss called him a "sadist" for his part in the alleged torture, after Nizri admitted that "special measures" were taken against the suspects.
The granting of permission to torture was first revealed in late December by sources involved in the case, who confirmed to Haaretz that Attorney General Yehuda Weinstein had given his approval for extreme interrogation methods three weeks prior.
Even the ISA acknowledged two weeks ago that its torture of the suspects had caused one minor to give a false confession, saying that he committed the arson together with the main suspect Amiram Ben Uliel, who likewise cracked under torture. It is being argued Ben Uliel's confession was likewise a false confession extracted under torture.
The harsh torture even led one minor suspect to reportedly try to commit suicide; the suspect later showed scars from the attempt.