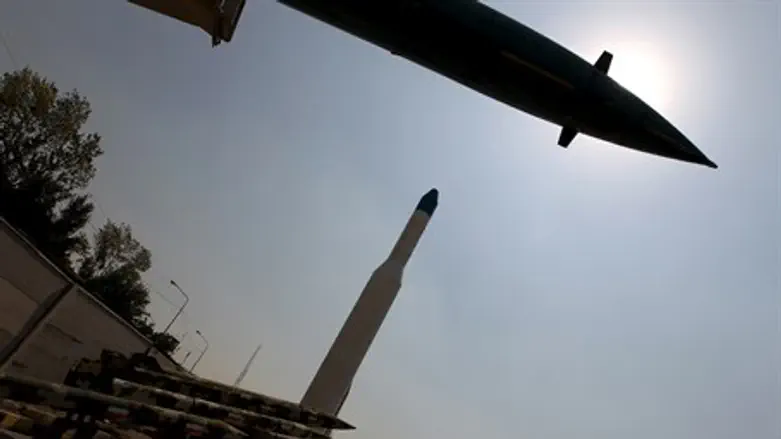 Iranian missiles (file)
Reuters
In open defiance of recent US sanctions on Iran's ballistic missile program, Iranian Defense Minister Hossein Dehghan on late Tuesday told local media that Tehran will soon be rolling out an upgrade of its nuclear-capable medium-range Emad missiles.
The "next generation of Emad with improved precision" will be unveiled in the next Iranian year which starts on March 20, Dehghan said as cited by the semi-official FarsNews Agency.
Emad is said to have a 1,700 kilometer range, putting Israel and much of eastern Europe squarely in its sights.
"The missile is being mass-produced but its precision-striking power will improve and its second version will be unveiled next year," Dehghan added. He went on to claim the missile was not a violation of the nuclear deal or UN sanctions because "we will never use a nuclear warhead (on it)."
In light of an Iranian Emad test on October 10, in breach of UN sanctions, US President Barack Obama's administration in January announced it was leveling sanctions on Iran's missile program - sanctions which Iran promptly vowed to defy. Iran in January publicly revealed its 14 underground "missile towns," with the latest facility being shown on Iranian media as convoys of the nuclear-capable Emad missiles were transferred in.
Dehghan also announced that Iran is to receive the Russian S-300 air defense system within the next two months, a troubling development given the advanced system's ability to shoot down missiles as well as jets.
The delivery has been blocked under Western pressure since 2010, given that it is in breach of UN sanctions. But now in the wake of the controversial nuclear deal Moscow is set to deliver the advanced missile system.
According to the Iranian defense minister Tehran and Moscow are also engaged in negotiations on a sale of the Russian Sukhoi-30 fighter jets.
"We have even decided on the number of Sukhoi-30 fighter jets that we want to buy," said Dehghan.
In a last announcement, he said Iran has designed and is testing a new tank called the "Karrar," which he claimed is on par with the Russian T-90. The new tank comes after plans to buy the Russian tank were canceled, according to Dehghan because Iran now has the capabilities to build a similar tank on its own.
"The defense industry designed and built the new battle tank from scratch. If not better, it's still as deadly as the Russian T-90," he claimed.
Following the controversial nuclear deal last July, Iran has shown an openly hostile stance to the US and continued to press its military development.
Critics of the nuclear deal note that Iran will be allowed to inspect its own covert nuclear sites such as Parchin, and likewise the leading state sponsor of terror can simply wait for the limitations on its nuclear program to expire under the deal in 15 years and then build a nuclear weapon.
US Secretary of State John Kerry in January admitted that part of the roughly $150 billion nuclear sanction windfall received by Iran will go to terror.