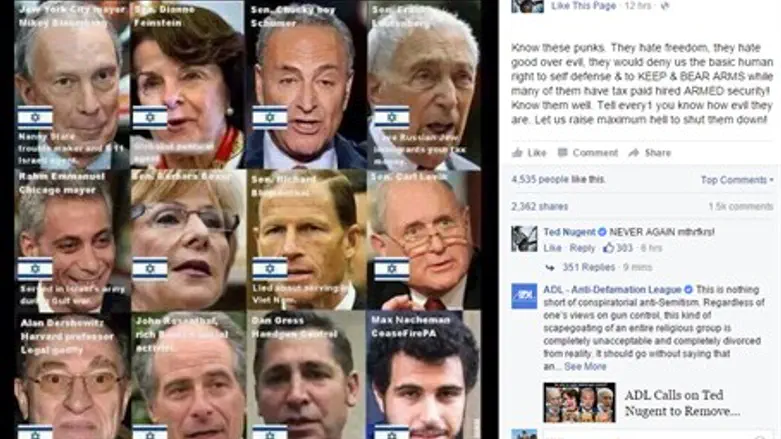 Ted Nugent blames Jews for gun control
Facebook
Rocker Ted Nugent, a long-time campaigner for right-wing causes, came under additional fire Tuesday from Jewish groups after he alleged a conspiracy behind US gun control efforts in which he called Jews who support gun control "Nazis is Disguise."
The "Cat Scratch Fever" guitarist on Monday listed on Facebook prominent US Jewish politicians who support stricter gun laws and put Israeli flags on their pictures.
"What sort of racist prejudiced (person) could possibly not know that Jews for gun control are nazis in disguise?" he wrote in one of a series of profanity-laden postings.
Rabbi Abraham Cooper, associate dean of the Simon Wiesenthal Center, said that the group would urge Facebook to take down the graphic if Nugent, who is 67, did not do so himself. "There are Jews on both sides of the gun control controversy and Nugent knows it. He owes our community an apology," Cooper said.
Jonathan Greenblatt, head of the Anti-Defamation League, had already acknowledged that Nugent has been an "equal opportunity offender" in terms of spreading hate around the internet, but Greenblatt added that in this instance, Nugent had drifted into "conspiratorial anti-Semitism."
"It should go without saying that anti-Semitism has no place in the gun control debate," he said, urging Nugent to take down the post.
Nugent, who has sold more than 30 million albums, is well-known for his strong views on guns. He has lashed out against proposals for tighter screening on weapons sales following a string of mass shootings in the United States and has long spoken out against animal rights.
Nugent campaigned for 2012 Republican presidential candidate Mitt Romney and was invited a year later to watch President Barack Obama's State of the Union address as a guest of then congressman Steve Stockman of Texas.
But several Republican politicians criticized him after he described Obama as a "subhuman mongrel."
AFP Contributed to this report