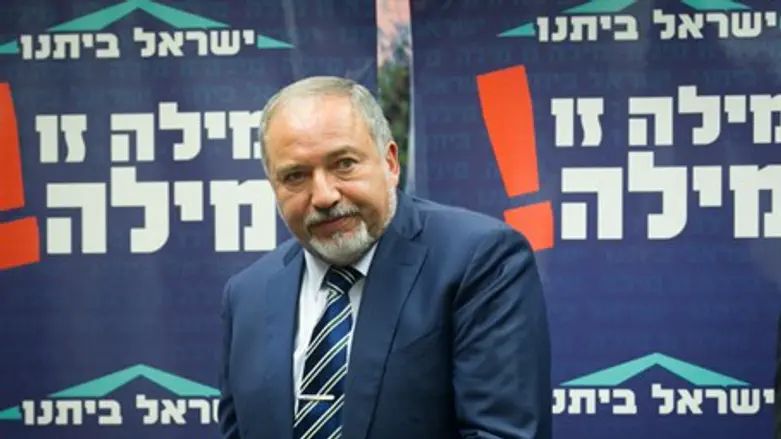 Avigdor Liberman
Miriam Alster/Flash 90
Yisrael Beytenu chairman Avigdor Liberman on Monday night dismissed the Knesset Ethics Committee's decision to suspend three Arab Knesset members who met families of terrorists as a "joke".
The committee ruled earlier that MKs Hanin Zoabi and Basel Ghattas would be suspended for a period of four months, while MK Jamal Zahalka would suspended for two months. All three are members of the Joint List's Balad faction. 
The three Knesset members will be barred from attending the Knesset plenum until the end of the winter session, but will still be able to vote there and in committee meetings.
But Liberman was unimpressed with the punishment imposed on the three, saying they should have been given the maximum penalty that the Ethics Committee is permitted to hand out.
"The punishment imposed on MKs Zoabi, Ghattas and Zahalka is a joke. Instead of imposing on them the maximum penalty, a suspension from the Knesset sessions for six months and denial of wages, and thus really deterring them [from repeating their actions], the Ethics Committee turned the case into a parody and handed a punishment which is not serious and only demonstrates incompetence and weakness," he charged.
Liberman added, "This decision only gives makes these Knesset members more popular in their sector and doesn't affect them in anything that is essential."
In the meeting last week, the three Arab MKs comforted the families of the terrorists, who they called "bereaved families," and promised to return the bodies of the terrorists, who they termed "martyrs".
Prime Minister Binyamin Netanyahu attacked the three MKs from the Knesset platform earlier on Monday, stressing Israel's parliament would not stand for their controversial actions. 
Netanyahu, along with Knesset Speaker Yuli Edelstein, had filed a personal complaint with the Ethics Committee against the three MKs. In fact, more than 450 complaints were filed with the Ethics Committee over their actions.