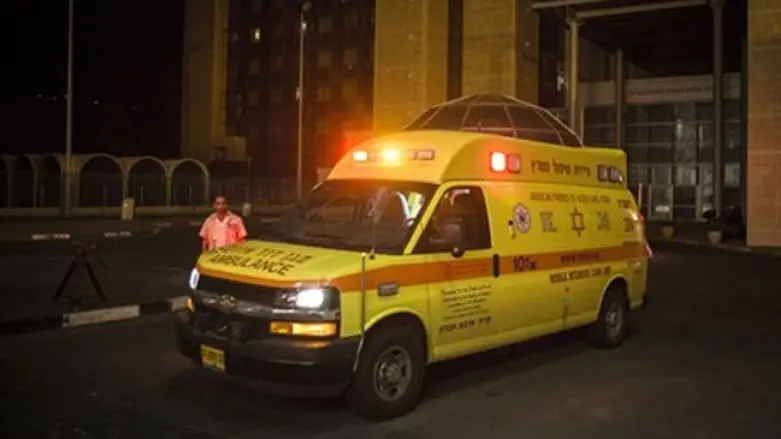 Ambulance
Hadas Parush/Flash 90
An Israeli boy was wounded Monday afternoon in Ramle after allegedly being stabbed in the back by an Arab youth. 
United Hatzalah and Magen David Adom teams were called to the 11-year-old boy's home in the mixed Jewish and Arab city in central Israel. They provided him with medical treatment and evacuated him to Assaf Harofeh Hospital in moderate condition. 
Paramedic Dov Maisel recounted to Channel 2, "The child, aged 11, was frightened and suffered several stab wounds to the upper body. After a short questioning, while delivering treatment, it was revealed the boy was attacked in the street and ran home." 
"I and two other volunteers treated him until an ambulance unit evacuated him to the hospital."
Police are are investigating all possible leads and have not formed a conclusion as to whether the attack was criminal or nationalistic. 
According to the boy, he and the Arab who stabbed him with some sort of "sharp object" had no prior acquaintance. 
He told police the stabbing occurred as he a left a grocery store in town when the attacker asked him for a lighter. When he said he did not have one, the Arab stabbed him and fled in the direction of the Jawarish neighborhood. 
After a short manhunt, police arrested the suspected attacker - a 17-year-old resident of the city. The background to the stabbing is still being investigated. 
Ramle has been on high alert after two 13-year-old Israeli-Arab girls stabbed and lightly injured a security guard near the city's central bus station last Thursday. 
Under interrogation later on Thursday, one of the two admitted: "We came to kill Jews."