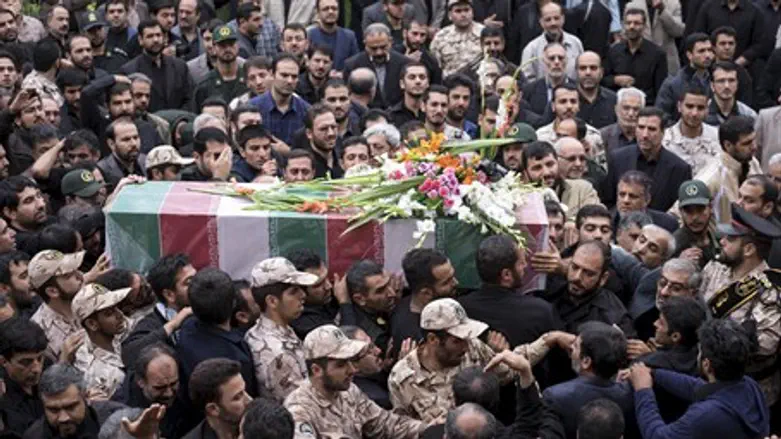 Funeral of Iranian fighter killed in Syria (file)
Reuters
An Iranian general has been killed by jihadists in Syria, reports say, the latest high-profile casualty of Tehran's efforts to prop up President Bashar al-Assad.  
Brigadier General Mohsen Ghajarian of the elite Revolutionary Guards was killed in the northern province of Aleppo, according to the Fars news agency, which is close to the Guards.
He was advising pro-regime forces in the fight against the Islamic State (ISIS) jihadist group, it reported, without saying when he died.
MizanOnline, a news agency linked to the judiciary, also reported his death.  
Fars said six Iranian "volunteers" had also been killed in Aleppo province, where the Syrian army, backed by Russian air strikes, this week launched a major offensive against rebels.
Iran has provided military advisers and frontline fighters to Assad's army, as well as Iranian, Afghan, Iraqi and Pakistani "volunteers" to fight the rebels.
The latest deaths bring to more than 100 the number of advisers and "volunteers" sent by Iran who have been killed in Syria since the beginning of October, according to an AFP tally.
The casualties include General Hossein Hamedani, a veteran of the Iran-Iraq war who died in October after having conducted 80 missions in Syria.  
Assad's forces Thursday entered the villages of Nubol and Zahraa north of Aleppo city, after breaking a rebel siege there, prompting what Syrian state news agency SANA called "mass celebrations" in the streets.
Iranian state media was also celebrating the victory with live reports from the battlefront.
The conflict has killed more than 260,000 people and forced half the country's people from their homes since March 2011.