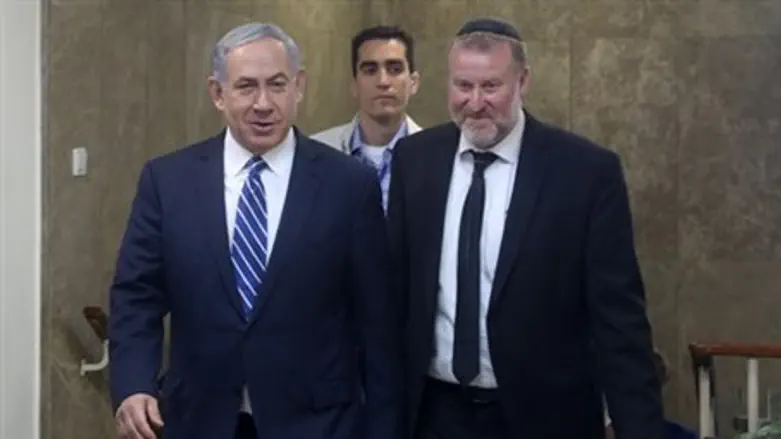 Netanyahu with Mandelblit
Flash 90
Dr. Avihai Mandelblit entered office Monday as Israel's new Attorney General, a position that is combined, in Israel, with the role of Legal Adviser to the Government.
The dual role makes the AG an extremely powerful figure, and critics of the outgoing AG, Yehuda Weinstein, accused him of riding roughshod over democratic principles in overruling the government on multiple issues by announcing that he would not defend it before the Supreme Court.
Nationalists especially saw Weinstein as representing the interests of the radical left, in tandem with the Supreme Court.
Ministers fear the Legal Adviser since he is also the person in charge of deciding whether or not to put them on trial for alleged offenses. Therefore, there is a tendency not to fight his opinions, even when they are opposed to those of the government on key issues.
At a ceremony Monday marking the changing of attorneys general, which was held at the Israel Bar Association's Jerusalem office, Mandelblit said that while the AG must remain independent, and attempts to clip his wings must be resisted, "The rule of law is not the rule of the attorney general."
Mandelblit, who served until now as Government Secretary, was the candidate favored by Prime Minister Binyamin Netanyahu and Justice Minister Ayelet Shaked (Jewish Home) to replace Weinstein.
Shaked congratulated Mandelblit at the ceremony and said: "The same powerful forces that tried to sabotage your appointment will try to influence you and your decisions. Maintain your independence and remain faithful to the truth." Her comments again hinted that leftists did not want Mandelblit to get the job.
It remains to be seen whether Mandelblit will choose to be a relatively non-confrontational attorney general, who tends to support and approve decisions made by the government, or to take up the "judicial activism" that typified his predecessors.
The path he chooses will have very important ramifications for various issues on which the government and courts collide – especially matters having to do with policies in Judea and Samaria like illegal construction and open-fire orders, as well as on immigration policy. If Mandelblit goes to bat for the government against the Supreme Court, his appointment will prove to have been a watershed event for Israel and possibly the entire region.
Mandelblit was Chief Military Advocate General of the Israel Defense Forces before becoming Government Secretary.