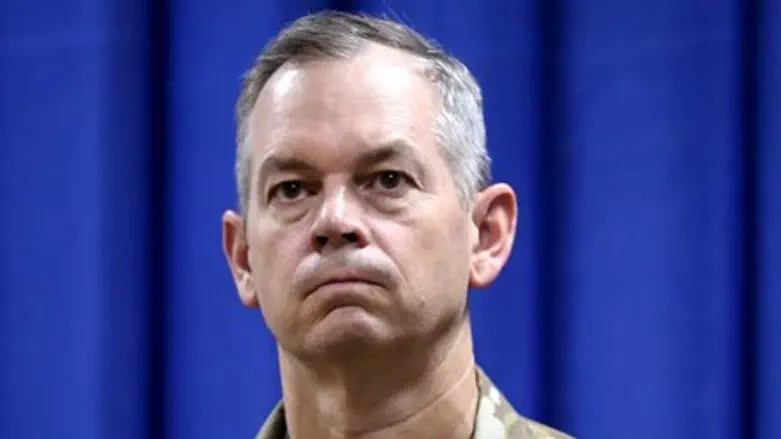 Lt. Gen. Sean MacFarland
Reuters
Army Lt. Gen. Sean MacFarland, the US commander in charge of the coalition fighting Islamic State (ISIS) in Iraq and Syria, said Monday that carpet bombing the terrorists would be "inconsistent with our values."
The remark is seen as being aimed at Republican presidential candidate Senator Ted Cruz (R-TX).
In December, Cruz pledged to "utterly destroy ISIS," and vowed: "We will carpet-bomb them into oblivion." He even hinted at the use of nuclear weapons, saying: "I don't know if sand can glow in the dark, but we're going to find out."
After being asked to explain why carpet bombing would not be an effective strategy against ISIS, MacFarland told reporters the US was "bound by the laws of armed conflict."
"We're the United States of America. We have a set of guiding principles," he said. "Indiscriminate bombing, where we don't care if we're killing innocents or combatants, is just inconsistent with our values."
MacFarland said that carpet bombing is precisely what Russia is accused of doing in its own air campaign in Syria, in support of Bashar al-Assad.
He added: "Right now we have the moral high ground, and I think that's where we need to stay."
MacFarland claimed the anti-ISIS campaign is making progress in both Iraq and Syria, and that the jihadists had lost about 40% of the territory they had held.
US Central Command (CENTCOM) confirmed on Saturday that four airstrikes in Syria and Iraq last year "likely" resulted in five dead and eight injured civilians.
According to CENTCOM, a "preponderance of evidence" suggests that civilian casualties occurred in four separate airstrikes aimed at ISIS targets in Iraq and Syria between July 27 and October 15 of 2015.
"In all of the cases released today, assessments determined that although the strikes complied with the law of armed conflict and all appropriate precautions were taken, civilian casualties unfortunately did occur," CENTCOM said in a statement. "We deeply regret the unintentional loss of life and injuries resulting from those strikes and express our deepest sympathies to the victims' families and those affected."
Official count versus independent count
Until recently, CENTCOM had only acknowledged civilian casualties in two out of the estimated 9,800 strikes on ISIS in Syria and Iraq.
According to Russian news source RT, the official count is much lower than figures put forth by independent observers, such as Airwars, according to which there have been 135 events in which civilians were killed, and the Syrian Network for Human Rights, which claimed in November of 2015 that there had been 225 civilian deaths since September of 2014.
RT added that there was "no mention of a December 2015 strike on Al-Khan in eastern Syria in which Western sources said 27 civilians died, while Syrian sources put the number of dead at 34, with 17 wounded. ISIS forces ended up taking the village despite the attack."