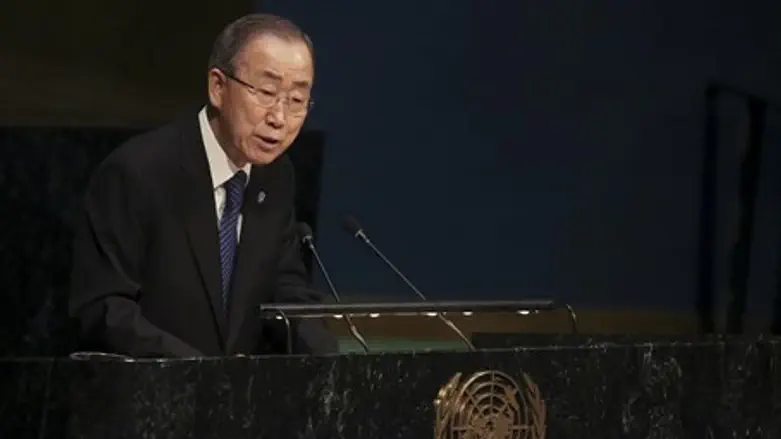 UN Secretary-General Ban Ki-moon
Reuters
In an effort to ameliorate Israeli anger over recent comments in which he appeared to express sympathy for Palestinian terror attacks, UN Secretary General Ban Ki-Moon published an op-ed in The New York Times on Sunday, pleading, "Don't shoot the messenger, Israel." 
"In Israel and the occupied Palestinian territories," Ban writes, "2016 has begun much as 2015 ended - with unacceptable levels of violence and a polarized public discourse." 
According to Ban, that polarization was evident in the United Nations last week when he pointed out the so-called "simple truth" that "history proves that people will always resist occupation."
Responding to the outraged reaction from Prime Minister Binyamin Netanyahu and other Israeli officials over his remark, Ban asserts, "Some sought to shoot the messenger - twisting my words into a misguided justification for violence."
Denying this, Ban labels attacks by Palestinians against Israeli civilians as "reprehensible" - as well as efforts to incite violence and the "glorification of killers."
"Nothing excuses terrorism," Ban stresses, before asserting that security measures alone will not be able to suppress the violence. 
Reiterating his warnings from the Security Council meeting last week, Ban argues that ignoring growing Palestinian "frustration and grievances" after a near 50-year "occupation" will not make them disappear. 
The anger and despair are "drivers of violence and extremism and undermine any hope of a negotiated two-state solution," he adds.
Blasting Jewish construction in Judea and Samaria as well as the thousands of illegal Palestinian homes at risk of demolition, Ban contends "Palestinians - especially young people - are losing hope over what seems a harsh, humiliating and endless occupation." 
Israelis, for their part, are "reeling from near-daily attacks and losing sight of the possibility of a comprehensive peace with Palestinians."
By their very nature, the United Nations and he himself are target for attacks, Ban says, but when even "Israel's closest friends" are expressing concern about "shortsighted or morally damaging policies," Israel can't "keep lashing out at every well-intentioned critic."
"The time has come" for both parties, Ban insists, to understand that "the status quo is untenable. Keeping another people under indefinite occupation undermines the security and the future of both Israelis and Palestinians."