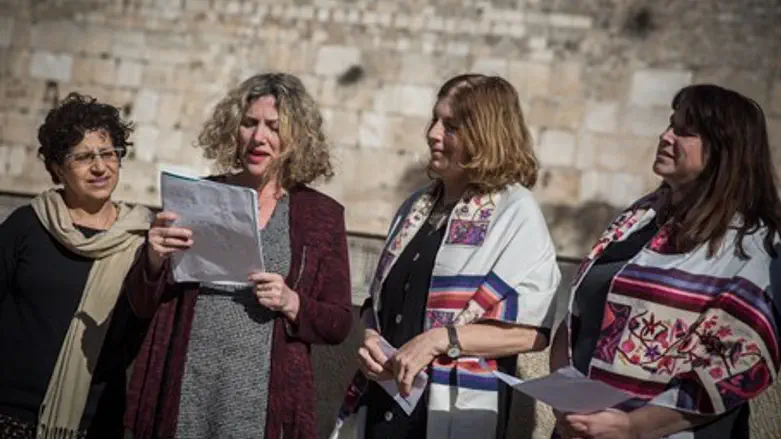 Women of Wall
Photo: Hadas Parush / Flash 90
Women of the Wall (WoW) held a press conference Sunday at the Western Wall (Kotel) Plaza, following the government's decision to expand the non-Orthodox mixed prayer section, which was established back in 2013.
Anat Hoffman, chairperson of WoW, said that "for the first time in the history of the State of Israel, a Prime Minister handed the keys of the holiest site to women and non-Orthodox sects, and allowed true freedom of choice in religion. This is a dramatic and significant victory for the people of Israel, and the women of Israel."
According to Hoffman, the negotiations between the parties was led by Cabinet Secretary Avichai Mandelblit, who supervised fair dialogue and interchange between all sides. "Mandelblit let all parties express their vision, and maintain respect for the other side as well. The special environment he created is reflected in the outcome of the negotiations.
"The rabbis of the Western Wall won since it now has full control over the prayer plaza north of the Western Wall. WoW and its partners won by giving them control of plaza south of the Western Wall. Egalitarians have finally received a significant recognition for the first time in history. However, the biggest winners are the people of Israel who now have a choice to pray in the place most suited to the customs of his or her prayer."
MK Yisrael Eichler (United Torah Judaism) attacked the government's decision to establish an even broader egalitarian section at the Western Wall. "Anyone who thinks that they will settle with control of the southern wall does not understand their (WoW's) war. They aim to breach the holiest place for the Jewish people," said Eichler.
Eichler compared the WoW reform to the Morabitat Islamic movement in Israel: "Just as Morabitat women shout Islamic provocation and violence on the Temple Mount, the reformers want to expel the Divine Presence and the sanctity of the holiest place for the people of Israel."
He added, "The reform of these organizations is the same – inciting against the 'occupation' and depicting Israel as an apartheid state that deserves an international boycott. Millions of Jews come to pray for unity and joy of all sects and classes according to Jewish law for fifty years. 'Women of the Morabitat Reform' want to turn it into a licentiousness den so that haredi Jews will have to back away from our holy Temple."