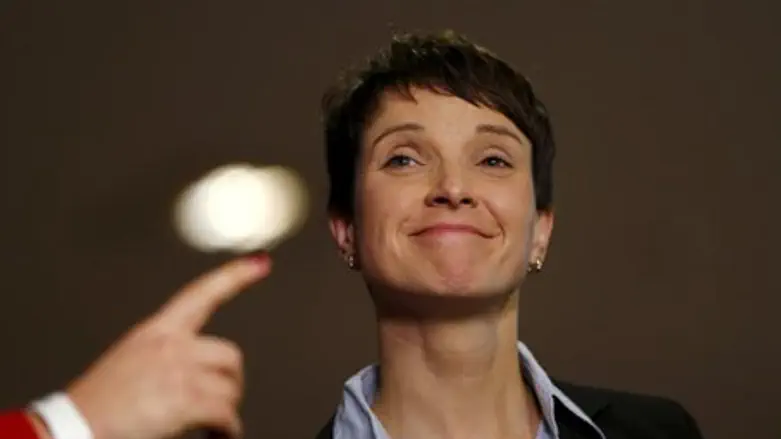 Frauke Petry
Reuters
A right-wing German politician has said that police should be ready to shoot illegal immigrants to prevent them entering the country, causing a political ruckus.
Frauke Petry, head of the Alternative for Germany (AfD) party, told the Mannheimer Morgen regional newspaper that border guards "must prevent illegal border crossings and even use firearms if necessary."
"It's in the law," she said, qualifying her remark by adding that no police officer would want to shoot a refugee. "I don't want that either. Armed force is the last resort," she explained, and argued that agreements with Austria and EU border checks could prevent the situation from getting worse.
"We need comprehensive controls to prevent so many unregistered asylum seekers from crossing the border," Petry added.
According to Deutsche Welle, she did not explain how precisely she proposed to control Germany's borders, and accused the paper of trying to get her to say that she wants border fences.
The parliamentary leader of the Social Democrats (SPD), Thomas Oppermann, said in response that Petry had "completely lost her way politically."
"Her proposal is reminiscent of the firing order in the GDR (East Germany)," Oppermann said. He noted that the "last German politician who was shooting at refugees was Erich Honecker," who led the former East Germany from 1971 to 1989.
Green Party politician Volker Beck said Petry's statement showed "that the AFD have their daggers drawn against the law."
"This shows that the party is really dangerous," Beck said.
A recent poll showed 11% support for AfD, which would make the eurosceptic, right-wing party the third strongest in the country.
In a bid to stem the flow of migrants into Germany, Germany reintroduced checks at the Austrian border last September. 
More than 1.1 million migrants arrived in Germany last year. The recent large-scale sexual attacks by migrants on New Years' Eve has galvanized public opinion against allowing any more of them in, and in favor of expelling the ones who are already there.
Hundreds of women were attacked by gangs of migrant men in cities across Germany and other parts of Europe on New Year's Eve, with more than 520 sexual assaults, including three rapes, taking place in the city of Cologne. 
Imam Sami Abu-Yusuf of the Al Tawheed mosque in Cologne defended the assailants in an interview on Russian TV, according to Breitbart. Abu-Yusuf said that he was not surprised the girls were sexually assaulted, groped and raped, because of the way they dressed.
Chancellor Angela Merkel has toughened her policy on immigration, announcing last week that refugees would no longer be accepted from Morocco, Algeria or Tunisia. On Saturday, she said most immigrants from Syria and Iraq would go home once the wars in their countries had ended.
Earlier this month, Merkel said she would amend the law to make it easier to deport immigrants who committed crimes.
Germany is now estimated to be turning away around 200 "asylum seekers" per day as they try to enter the country from Austria.