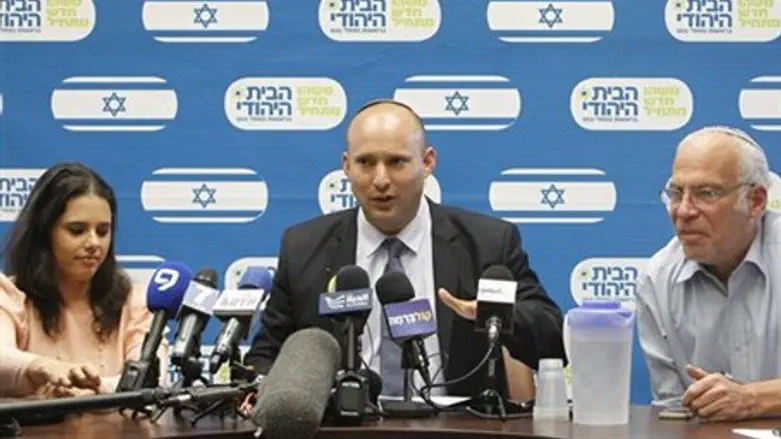 Jewish Home
Flash 90
The Israeli government is expected to recognize on Sunday the right of Reform and Conservative prayer at the Western Wall. 
According to a proposed recommendation, the Kotel will be divided into two sections: the northern part would be under the responsibility of the Kotel rabbi, while the southern section - where men and women may pray together without a partition - would answer directly to the Prime Minister's Office.
Jewish Home ministers appear to be divided over the proposal, with members of the Tekuma faction taking a more hardline stance.
Agriculture Minister Uri Ariel is expected to vote against the proposal which he asserts is another attempt to harm the sanctity of Israel and would would change the status quo in place since the establishment of the state. 
Education Minister Naftali Bennett and Justice Minister Ayelet Shaked, however, are expected to support the proposal. 
In a statement on the issue, Bennett's office said, "Two years ago, Naftali Bennett broke the circle and found an immediate solution. He built the [southern] complex and the proposal now is consolidating and anchoring it as a government decision."
It is not clear at this time how haredi ministers and Knesset members will respond to the controversial legislation. 
The proposal to be discussed at the Cabinet meeting on Sunday states the expansion of prayer to accommodate a "pluralistic and egalitarian approach, will be used to meet the needs of worshippers from various non-Orthodox denominations, particularly the Reform and Conservative streams."
Funds for the proposed new compound and its needs will be coordinated with the Finance Ministry as part of the 2017 state budget.