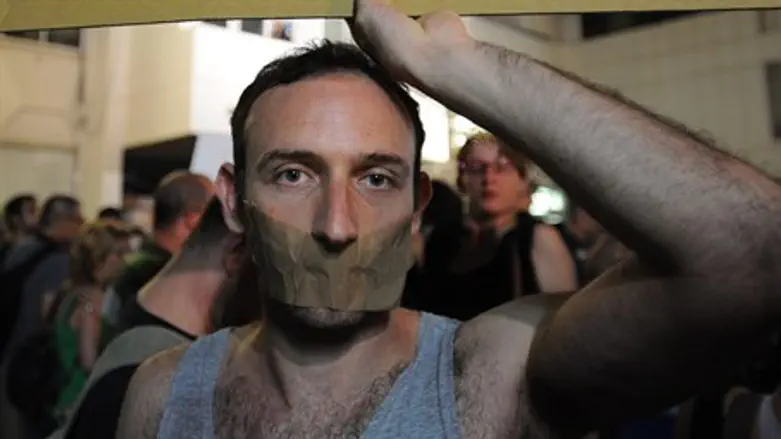 Freedom of speech protest (illustration)
Gili Yaari/Flash 90
The European Court of Human Rights's (ECHR) annual report, released on Thursday, revealed that in 2015 Turkey led the Council of Europe member states with the highest number of violations of freedom of expression.
Of the 28 cases in 2015 in which a violation of freedom of expression was determined, ten of them were committed by Turkey according to the report as cited by the Turkish Hurriyet Daily News. The closest after Turkey was France, with three rulings against it.
While Turkey led in terms of freedom of expression violations, Russia outpaced it in terms of the total number of violations, putting Turkey in second place.
Highlighting the freedom of expression problem in Turkey was a case last December in which courts called up experts to decide if a doctor should get jail time for comparing President Recep Tayyip Erdogan and Gollum from The Lord of the Rings - the doctor had already been expelled from the Public Health Institution of Turkey in October for sharing the images comparing the two.
Turkey is not new to violating freedoms of expression. Back in 2014, the country committed more such violations that the rest of the Council of Europe states combined, being responsible for 24 of a total 47 violations.
Aside from freedom of expression, Turkey is also not granting the right to a fair trial according to the findings. Of a total of 120 Turkish violations in 2015, 20 were over the right to a fair trial.
The report found that the right to a fair trial was in fact the issue with the highest percentage of violations among the member states, standing at just under 25% of all violations.
While Turkey is second behind Russia in terms of violations in 2015, it is ranked first place in terms of all violations determined by the ECHR since it was first established in 1959.
Turkey committed a whopping 3,182 violations since 1959 according to the report, with Italy coming in second at 2,336, and Russia third with 1,720.