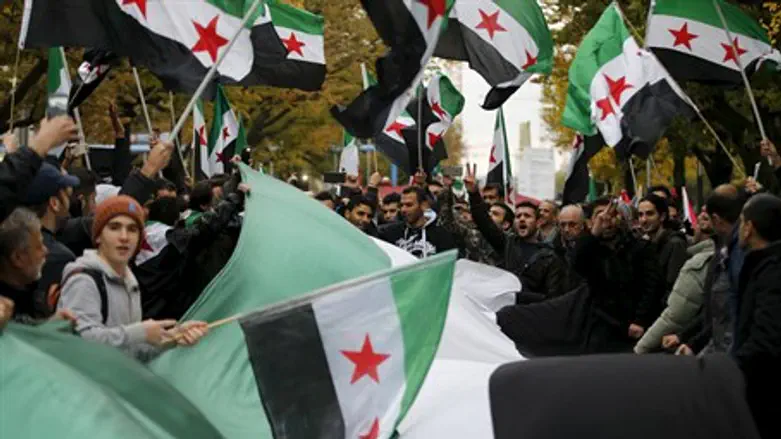 Syrian opposition flags (archive)
Reuters
The United States on Wednesday urged Syria's reluctant rebel and opposition groups to attend UN-mediated peace talks with President Bashar Al-Assad's regime without preconditions.
United Nations envoy Staffan de Mistura has invited the Saudi-backed High Negotiations Committee (HNC), a rebel umbrella group, to send delegates to indirect talks in Geneva.
But the group, which is meeting in Riyadh, has yet to reply and a spokesman said it is waiting for "clarifications" on the guest list for the planned dialogue.
The Committee has insisted it must be the sole opposition delegation, while the United Nations has issued invitations to other groups it sees as regime opponents.
And rebel leaders have demanded an end to the bombing of their communities by Syrian and Russian aircraft and the delivery of humanitarian aid to besieged towns.
But the United States, which sympathizes with the rebels and sees the talks as the start of a transition process that would see Assad step down, urged them to take part.
"We believe that the HNC delegation and the various factions of the Syrian opposition have an historic opportunity to go to Geneva and propose serious practical ways to implement a ceasefire, humanitarian access and other confidence-building measures, and that they should do so without preconditions," State Department spokesman Mark Toner said Wednesday, according to AFP.
"We believe it should seize this opportunity to test the regime's willingness and intentions and expose before the entire world which parties are serious about a potential peaceful political transition in Syria and which are not," he added.
UN officials have said the second intra-Syrian dialogue since the start of the conflict would run over six months, with the first round to last between two and three weeks.
The talks have already been delayed from their scheduled start this past Monday over who will represent the opposition.
Assad's regime has designated its UN envoy Bashar al-Jaafari as its chief negotiator.
Diplomats, including U.S. Secretary of State John Kerry, who met Committee members last weekend, have pressured the opposition to go to Geneva.
The talks in Geneva are the latest international attempt to end Syria's conflict, which has killed more than 260,000 people since it began with anti-government protests in March 2011.
They are part of a UN-backed plan agreed last year that envisages negotiations, followed by the creation of a transitional government, a new constitution, and elections within 18 months.
De Mistura's previous efforts to stop fighting in Syria have been unsuccessful. He previously angered rebel groups by saying Assad  was "part of the solution" to the conflict in Syria. Those rebel groups later refused to a temporary ceasefire because of de Mistura's comments.
AFP contributed to this report.