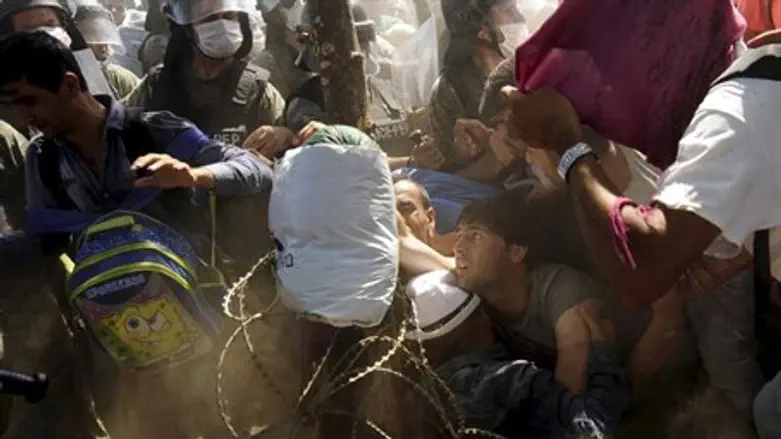 Refugees on Macedonian-Greek border
Reuters
Jewish community leaders in Britain were aghast Monday after migrants staying at temporary accommodations in Cardiff were told to wear colored wristbands, likening the idea to forcing Jews to wear yellow stars during the Holocaust.
The protest arose after a Home Office contractor at Lynx House gave migrants from the Middle East and North Africa brightly colored bands to wear at all times, as a condition for receiving food.
Jewish News cited a number of community leaders condemning the initiative.
The Vice-President of the Board of Deputies of British Jews, Marie van der Zyl, said: "The proposal of making asylum seekers wear colored wristbands is totally inappropriate. With Holocaust Memorial Day this week, we must be particularly alive to the fact that publicly identifying vulnerable minorities in this way can lead to crude racism or worse.
"While there clearly needs to be a sensible of means of registering and identifying asylum seekers, this misguided proposal should be dropped and a sensible, non-stigmatizing, alternative should be found instead."
The Board of Deputies is the main representative body of British Jews.
The wristbands were given to migrants living in temporary residences in Cardiff, so they could claim meals, but Hannah Wharf, policy officer for the Welsh Refugee Council, told the BBC that it "harks back to the Nazi regime with people being forced to wear a Star of David and stand out.
"It's absolutely appalling," Wharf stressed. "It is treating people like lesser beings. It is treating them like animals lining up to feed."
The leader of the Welsh Plaid Cymru party, Leanne Wood, called the initiative "alarming" and said that the government had "serious questions" to answer.
"Such a visible indicator is unnecessary and has left a community already under suspicion open to further harassment and distress," she said.
"I will be writing to the Home Secretary to seek assurance that this practice will not be repeated anywhere else in the UK."
The British Home Office declined to comment on the matter, calling it was "an operational issue" that involved Clearsprings Ready Homes, the organization providing the accommodation for the migrants.
A spokeswoman for Clearsprings defended the use of the wristbands, calling it a "reliable and effective way" to guarantee service delivery but said photo IDs would be used instead, following the wave of criticism.