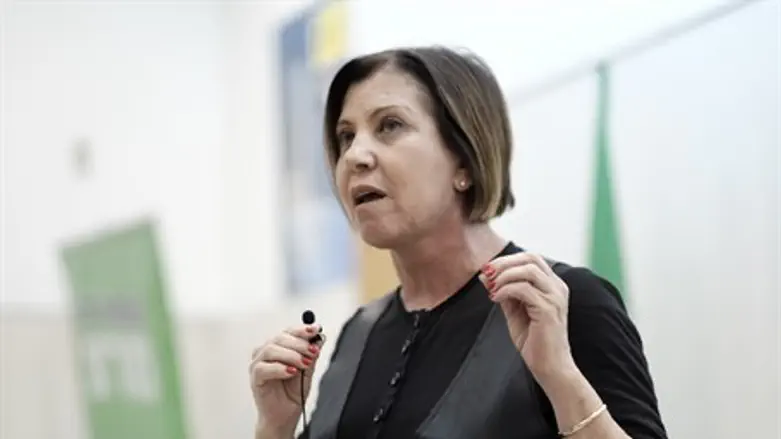 Zehava Galon
Tomer Neuberg/Flash 90
MK Zehava Galon, head of the far-left Meretz party, has promised Zionist rap star turned Facebook sensation Yoav Eliasi, better known by his stage name Hatzel, that she will convert to Islam and move to Gaza - but it later turned out the rapper staged the conversation to make a point.
On Monday evening Hatzel posted a screenshot of an alleged Facebook conversation between himself and Galon to his page, in which she set terms by which she would leave Israel for good.
Those conditions were quickly achieved by an immediate outpouring of likes and shares by nationalist Israelis who seem to be in a hurry to be rid of the leftist MK.
"Hello Zehava, this is Yoav Eliasi, don't be shocked," Hatzel began in the conversation posted to his page. "I want to ask you a favor, and that is to let Israel be free of you and your Israel harming friends from B'Tselem and Breaking the Silence, I think it will be a lot calmer and better here if you all just leave."
"I hope you will understand my message, and simply let us be free of you all, thank you very much!," wrote the rapper. "P.S. we'd be happy if you could take Hanin Zoabi with you too, I'm ready to fund the travel cage."
Galon apparently responded by writing, "hello Yoav, I read what you sent me. Let's make it interesting."
"Take a screenshot of this conversation, post it to Facebook, (and) if you succeed in getting over 40,000 likes and 4,000 shares, I will convert to Islam and move to Gaza together with B'Tselem, Breaking the Silence and Hanin Zoabi."
"You have until the end of January. Good luck!," concluded the MK.
The post went up at 6:42 p.m. on Monday night.
In just over an hour the post already had received 46,307 likes and 14,645 shares, well surpassing Galon's conditions for her conversion and exit to Gaza. Those figures continue to rise rapidly.
But was Galon serious? In response to a user who asserted that Galon was obviously joking, Hatzel wrote, "it's a joke that they ran a campaign on Bibi (Binyamin Netanyahu) and I turned it upside down on them, do you think that Zehava has a sense of humor?"
Shortly after the post broke the conditions, Hatzel broke the suspense - Galon won't be converting to Islam or moving any time soon.
"Congratulations we reached 40,000 likes and 12,000 shares in an hour, which shows you the desire of the people," he wrote.
"Unfortunately Zehava won't convert to Islam and unfortunately she also won't leave, but we will continue to fight her and B'Tselem and Breaking the Silence until they go back under the rock they crawled out of."
"It goes without saying that I made this conversation on Photoshop in response to what 'our friends' in the left did to Bibi, turn about is fair play," he wrote, together with a picture of a post forged by leftist activists showing an alleged Facebook post by Netanyahu, in which he promised to resign if the post got 150,000 likes and 50,000 responses.