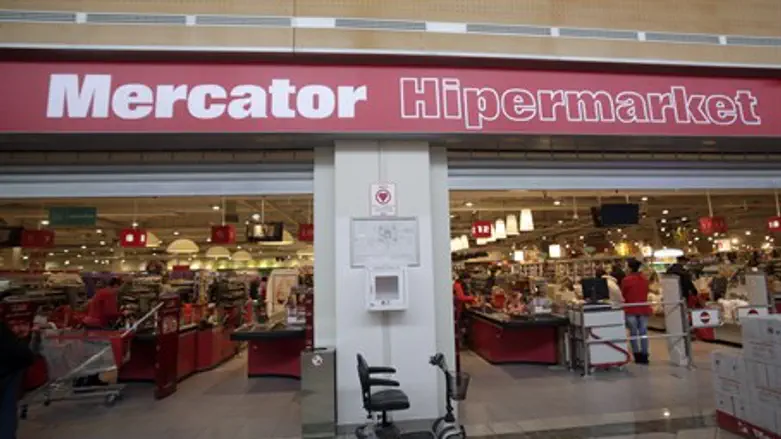 Mercator store
Reuters
Slovenia's biggest supermarket chain on Thursday reversed a previous decision to boycott Israeli products, two days after caving to the Boycott, Divestment and Sanctions (BDS) movement and removed Israeli products off its shelves.
According to a report in Yedioth Ahronoth, the supermarket chain Mercator placed a new order for fruit from Israel, including pomelos and avocados.
The reason for the chain's change of heart is unknown, but Yedioth Ahronoth noted that its report about the decision was cited on Slovenian media, with an emphasis on the Israeli Foreign Ministry's accusation that this was a boycott against Israel.
At the same time, the Israeli Foreign Ministry summoned Slovenia's ambassador for a discussion on the matter.
Also, Israel's Ambassador to Slovenia, Shmuel Meirom, was planning on arriving at the Slovenian Foreign Ministry to protest the move and meet with the Mercator CEO in an effort to persuade him to go back on the decision, according to Yedioth Ahronoth. But Mercator appeared to be alarmed by the outcry, and was quick to place a new order for Israeli goods.
The supermarket chain did not officially admit to making a decision to boycott Israel, but officials at the Foreign Ministry in Jerusalem confirmed to Yedioth Ahronoth that the chain had stopped placing orders for Israeli products even before its announcement.
The incident in Slovenia is eerily similar to one that occurred in Germany in November, when German department store KaDeWe removed Israeli products from its shelves, saying it would return the products but "only after fixing the labels."
Following backlash from Israel, however, the store retracted its earlier decision and apologized for the "confusion" its earlier statements on the matter created.
The Slovenian Embassy in Israel stressed, meanwhile, that the country does not boycott Israeli products.
"There is no Slovenian boycott on Israeli products. The agreements between the European Union and Israel are the basis of Israel's special status in its relations with Slovenia as well. The government of Slovenia has not held stocks in Mercator since 2014. The ties between Israel and Slovenia have always been good and are characterized by vast cooperation, mostly in the fields of economics, science, research, advanced technologies, and tourism," it said, according to Yedioth Ahronoth.
The European Union (EU) has already passed a decision to label Israeli products from Judea, Samaria and the Golan Heights as "settlement products", invoking outrage from Israel despite the EU's insistence the move was not a boycott.
Similarly, earlier this week the EU passed a resolution stipulating that all agreements between Israel and the EU not apply to any areas over the 1949 Armistice borders.
In this case, as well, the EU insisted the resolution "does not constitute a boycott of Israel which the EU strongly opposes."