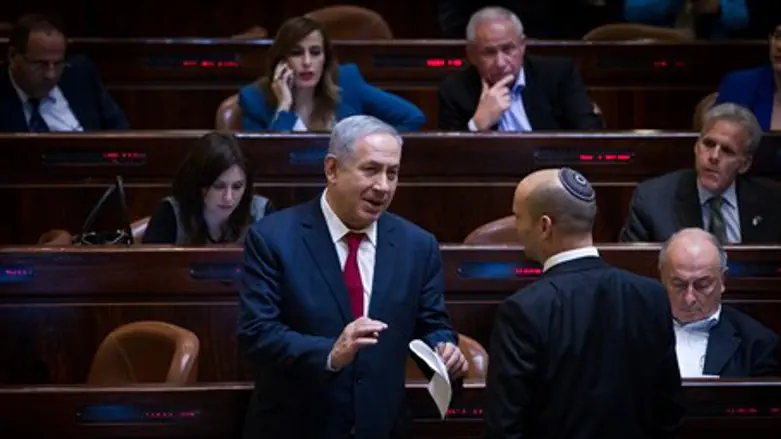 Netanyahu and Bennett at Knesset session
Miriam Alster / Flash 90
Sources close to the Prime Minister mocked Education Minister Naftali Bennett's remarks at a Tel Aviv conference on Tueday, accusing him of stealing Binyamin Netanyahu's ideas. 
Speaking at the Institute for National Security Studies conference, Bennett offered criticism of Netanyahu's handling of the fight against terror and claimed that the country is suffering a "mental deadlock."
As a result of that "mental deadlock," Bennett asserted, Israel lags far behind its enemies "disruptive innovations" and must "renew our concepts, not just our weapons."
"Expensive F-35 fighter jets will not help against 50 commando fighters who dug their way to Nativ Haasara. The newest bulletproof vests will not protect us from the delegitimization attacks that are becoming the building blocks of attacking Israel are able to neutralize a significant percentage of our physical strength. We must create a new, creative, and clear concept of security."
Instead of being bothered by the Jewish Home chairman's criticism, Netanyahu's associated were apparently laughing it off. 
"We giggled when we heard his remarks," sources close to Netanyahu told Channel 10. "Bennett has once again repeated his well-known pattern - he hears ideas that arise in various forums with the prime minister and then uses them as his own. 
"Everything he said were things that arose in the Cabinet," they added. "And now he's presenting them as his own ideas. It's just unreal."