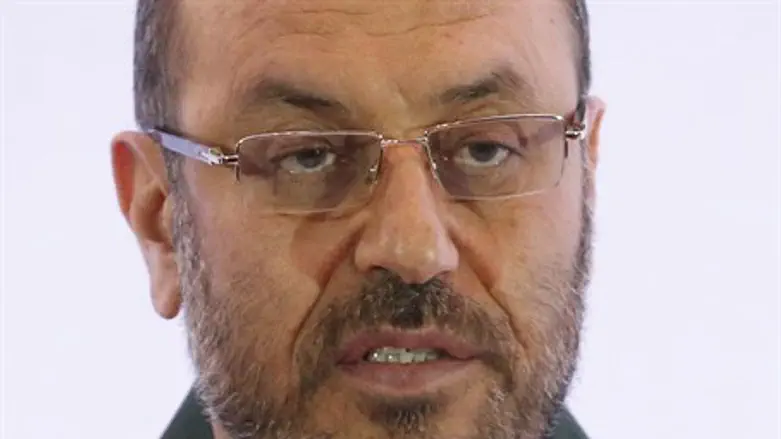 Iranian Defense Minister Hossein Dehqan
Reuters
Iranian Defense Minister Hossein Dehqan on Monday said the Islamic Republic will unveil new domestically-designed and manufactured missiles in the near future in defiance of new American sanctions against the country over its missile program.
He was echoing an earlier statement by the country's Foreign Ministry spokesperson, who said Tehran would continue building its controversial ballistic missile program.
"[Any] attempt to impose new sanctions [against Iran] under irrelevant pretexts is indicative of the continued U.S. hostile policy and acrimony toward the Iranian nation, and a futile effort to undermine Iran's defense might," Dehqan said on Monday, according to the state-run Press TV.
He added that the Islamic Republic's missile industry is fully domestically-manufactured and anchored in science and expertise of the country's defense sector.
"Hence, sanctions against [certain] people and companies will have no impact on the development of the industry, and we will actually demonstrate [their ineffectiveness] by displaying new missiles," he stressed.
The announcement comes after President Barack Obama declared on Sunday that the United States would sanction 11 entities and individuals connected to the Iranian missile program. The new sanctions came as other sanctions over Iran's nuclear program were lifted.
The new American missile sanctions come after Iran conducted an Emad medium range ballistic missile test on October 10, and a month later it tested another ballistic missile.
U.S. officials revealed that other undeclared tests occurred even earlier than those. UN sanctions monitors confirmed the Emad rocket tested on October 10 is capable of carrying a nuclear warhead, making it a violation of a UN Security Council resolution.