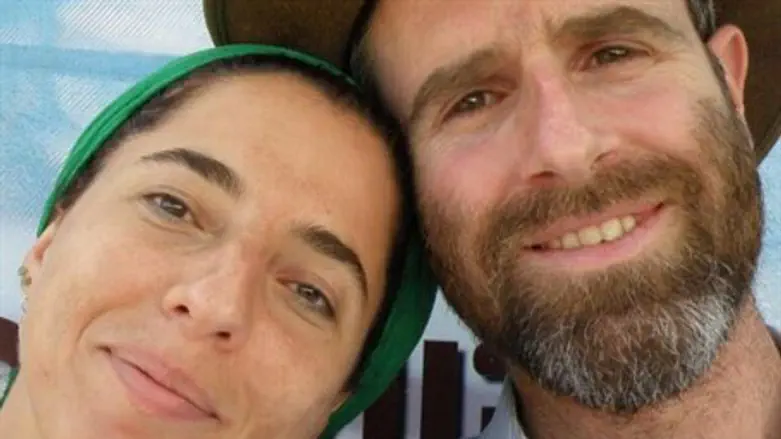 Dafna Meir and her husband
Courtesy of the family
Education Minister and Jewish Home Chairman Naftali Bennett delivered an emotional eulogy Monday at the funeral of Dafna Meir, who was stabbed to death in her home Sunday.
He cited the week's Torah portion which tells how the Israelites were surrounded by light, wherever they were, while the Egyptians were afflicted with darkness. "In the great darkness, Dafna, you lit up your surroundings. You took your light with you everywhere," he said.
"You were a family of six, but you had room to give more, and you opened your home to two more children. You were a happy woman, joyous, optimistic, responsible and loving. You were a unique soul. You brought life everywhere."
Bennett noted that Dafna combined conventional medicine, in her work as a nurse at Soroka Hospital, and work as a natural therapist, specializing in matters of fertility.
"In addition, you guided brides – because wherever light can be added and new life begun, that is where you said – 'I am here.'
"And of all people, it is you from whom life was taken.
Facing Dafna's "great light," he added, is an Arab terror mechanism that is "all darkness." While Dafna is a mother who protected her children with her own body, Israel faces an enemy that sends its children to defend terrorists. In the face of sanctifying life at any price, "we face human monsters who sanctify death."
"If we were not so sad," he said, "we would pity you, misanthropic enemies."
Addressing the enemies, Bennett added: "Our love is greater than your hatred. A nation whose heroes murder mothers in front of their children, will not be accepted into the family of nations, ever. A nation like that will never have a state. Quite simply, because hatred has no state."
Bennett noted that soon, we will be celebrating the 50th year since the liberation of Israel's biblical heartland in 1967. "From a desolate countryside, we turned the magical tracts of Hevron, Yehuda, Samaria, Binyamin, Jerusalem and the Golan into areas teeming with 500,000 Jews who have returned to their homeland," he said, and promised: "We will be 700,000, then we will reach 900 thousand, and celebrate the million, and then we will reach two million Jews in Samaria, Hevron, the Etzion Bloc, Jerusalem, the Bik'a and Yehuda."
"We shall continue. And we shall win through life," he vowed.