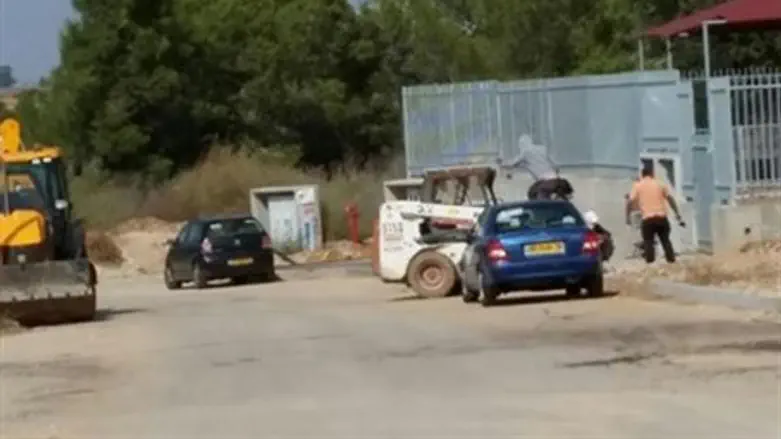 Arab construction workers adjacent to kindergarten with no security (file)
Shai Cohen
Parents have been paying for security guards outside of their children's kindergartens due to the current wave of terror in Israel, in spite of three-month-old promises from the government promising government funding to cover the costs.
According to the original status quo, while security personnel outside of schools is covered by the Ministry of Internal Security, Kindergartens are not covered by the Ministry. Due to the wave of terror that began in September, the government and local councils agreed to cover the cost of hiring security guards and implementing other security measures at kindergartens and daycare centers across the country.   
However, wherever extra security has been put in place, despite the promise made by the Finance Ministry that kindergartens and daycares would be supplied with funding to hire security personnel, parents are still paying out of pocket. That promise has yet to be put into action.
The Finance Ministry was set to foot the majority of the bill, in certain areas even 100%, while the cities and local councils picked up whatever was left. This has not come to pass.
Head of the Parents Committee in Jerusalem, Paz Schwartz, told reporters that "over 90% of the daycares in Jerusalem lack security. Of the ones that do have a system, 20% of them only have a keycode access system." Paz cast doubt on those systems, saying that they are "hardly secure."    
The Finance Ministry has stated that only 40 councils have approached the Ministry to receive the money. The Ministry of the Economy is blaming the local, city and regional councils for not submitting receipts as needed in order to obtain the money. According to the Union of Local Authorities a letter was sent to all local authorities, but most have simply not responded.   
There is currently earmarked 2.2 billion shekels that is waiting to be utilized for paying the salaries of security personnel, and rather than use it the councils and country are allowing the parents to pay for it out of their own pocket.  
An additional problem to the money being tied up is that there are simply not enough qualified security guards to supply the demand of stationing a guard at each kindergarten.
Jerusalem city council, which, like many others did not submit a request to the Ministry to receive funding responded by saying, "the responsibility of paying for the extra security measures falls on the shoulders of the Ministry of the Economy and therefore the city did not submit a request. The security buttons that exist in kindergartens and daycares all reach the city control center and we are providing the security that is needed."
Raanana city council, which also did not apply to the ministry for funding, said, "the city of Raanana is utilizing an comprehensive and increased system for all educational institutions including daycares, which goes above and beyond the mandate."