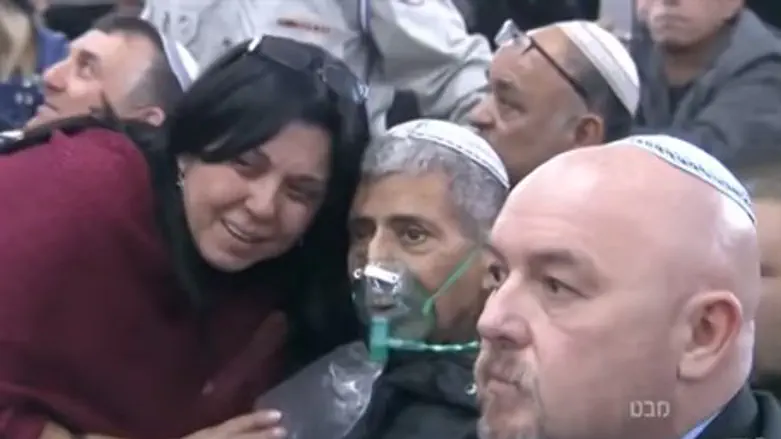 Shmuel Rada at the dedication
Screenshot - Channel 1
Shmuel Rada, the bereaved father of Tair Rada who was murdered in 2006 at the age of 13 at her school in Katzrin on the Golan Heights, passed away on Friday after an extended battle with cancer.
Rada passed away just one day after attending the dedication of a synagogue in his daughter's honor in Katzrin. The synagogue was named "Tair Shevet Achim" (Tair dwells amongst her people), a name that her father came up with two years ago.
The bereaved father was allowed to leave Poriya Hospital in Tiberias to take part in the dedication, which he was brought to by Magen David Adom's "wishing ambulance."
"I'm happy that I succeeded in realizing my dream ever since the murder - to establish a 'miniature Holy Temple' in memory of Tair," he said during the visit.
"I made efforts for this moment, it isn't easy. It's a Yemenite synagogue but it is for all of the nation of Israel," emphasized the father, calling on Jews "to come from all ends of the rainbow to pray here in this synagogue for all."
Rada's funeral will take place at 2:30 p.m. in Katzrin's cemetery.
Late last month the Supreme Court dismissed the petition of Roman Zadorov in the case of Rada's murder, finding him guilty. However, one of the three judges called to acquit the school contractor, and the case will apparently be further probed.
There are heavy question marks surrounding the murder of the eighth-grader, after her body was found in a bathroom stall in the Nofei Golan school in Katzrin in late 2006.
Suspicions point to the possibility that other students in fact stabbed her to death, based on various evidence from the scene including the hair of another girl found in Rada's hand, and the fact that she had become a social outcast among her peers.
Ilana Rada, the bereaved mother of Tair, said following the decision in December that "it's still in doubt that he's the murderer. Until the end of my life I will continue to pursue the murderers."