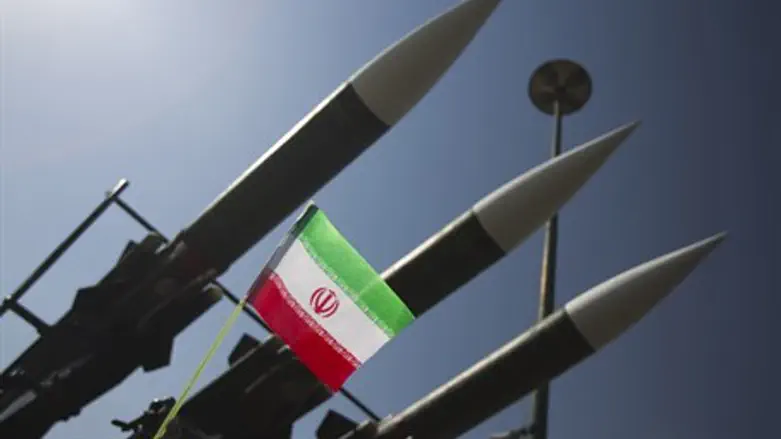 Missiles at a Revolutionary Guards parade in Tehran (archive)
Reuters
A group of American lawmakers on Wednesday sent a letter to President Barack Obama, calling for sanctions against Iran in response to its recent tests of ballistic missiles.
The letter was signed by Representatives Nita Lowey (NY-17), Debbie Wasserman Schultz (FL-23), Eliot Engel (NY-16), Albio Sires (NJ-8), Gerry Connolly (VA-11), Susan Davis (CA-53), and Jerrold Nadler (NY-10).
"We condemn Iran's blatant violation of international law, and urge the Administration to act immediately with punitive measures. Iran's destabilizing behavior in the region and continued support for terrorism represent an unacceptable threat to our closest allies as well as our own national security," the lawmakers wrote.
"As the international community prepares for implementation of the Joint Comprehensive Plan of Action (JCPOA), Iran must understand that violating international laws, treaties, and agreements will have serious consequences. We call on the Administration to immediately announce new, U.S. sanctions against individuals and entities involved in Iran's ballistic missile program to ensure Iran is held accountable for its actions," they added.
"Inaction from the United States," noted the lawmakers, "would send the misguided message that, in the wake of the JCPOA, the international community has lost the willingness to hold the Iranian regime accountable for its support for terrorism and other offensive actions throughout the region—including in Syria, Yemen, Lebanon, and the Gaza Strip. This behavior—including these ballistic missile tests—poses a direct threat to American national security interests and those of our allies."
On October 10, Iran conducted ballistic missile test which elicited strong condemnation from members of the UN Security Council. A month later, it tested another ballistic missile, and an American official said other undeclared tests occurred earlier than that.
A team of UN sanctions monitors confirmed in a recent report that a medium-range Emad rocket that Iran tested on October 10 was a ballistic missile capable of delivering a nuclear warhead, making it a violation of a UN Security Council resolution.
Following that confirmation, it was reported that the Obama administration is preparing new sanctions on international companies and individuals who played a role in Iran's ballistic endeavors. On Tuesday, the State Department said it was in discussions with other agencies on imposing those sanctions.