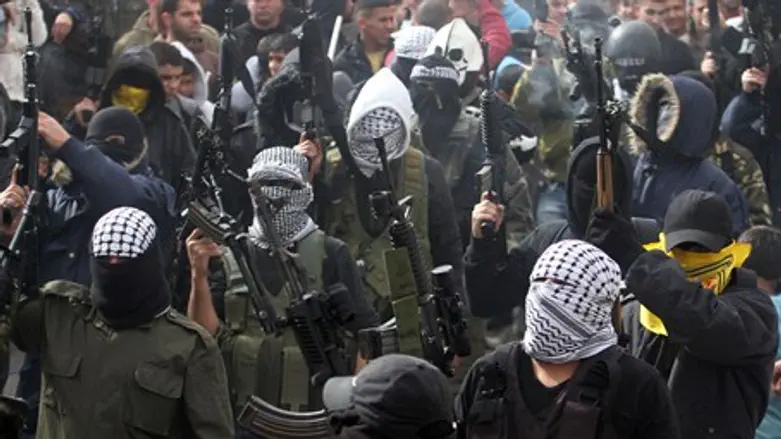 (Illustration)
Flash 90
The Knesset voted on Wednesday to reject a proposal by MK Issawi Frej (Meretz), to establish a special parliamentary committee to tackle the problem of illegal weapons in the Arab sector.
Frej's motion was rejected by a majority of 46-37, after the governing coalition opposed it.
Frej, who is himself an Israeli-Arab, had based his proposal on declarations by Prime Minister Binyamin Netanyahu and other government ministers in the aftermath of the recent Tel Aviv shooting attack, pledging to combat the proliferation of illegal firearms an other weapons in Arab towns and villages throughout Israel.
In response to the vote, the MK criticized the government from the Knesset plenum for making do with empty statements.
While he and others had been warning "for years" about the problem within Arab communities - and the violent crime and terrorism it fuels - "no one is interested," he lamented.
"Now the prime minister wants a headline, goes to Tel Aviv and says 'there won't be two states here,'" he continued, remarking upon Netanyahu's statement at the scene of last week's deadly shooting attack, in which he vowed to end the lawlessness in the Arab sector.
"In the last 15 years 1,100 people have been killed in the Arab sector (by illegal weapons), and no one was interested."
Police estimate that there are close to half a million illegal guns in circulation among the Arab population. In the central Israeli Arab city of Taibe alone, police say there are some 24,000 unlicensed weapons.
"Half a million weapons in the Arab sector doesn't call for a commission of inquiry?" Frej exclaimed. "These are terrifying statistics which obligate the establishment of a commission of inquiry."
"That which was will happen (again)," he said. "The streets of Arab towns will continue to be battlefields, and as long as these battlefields don't extent to Jewish towns no one will care."