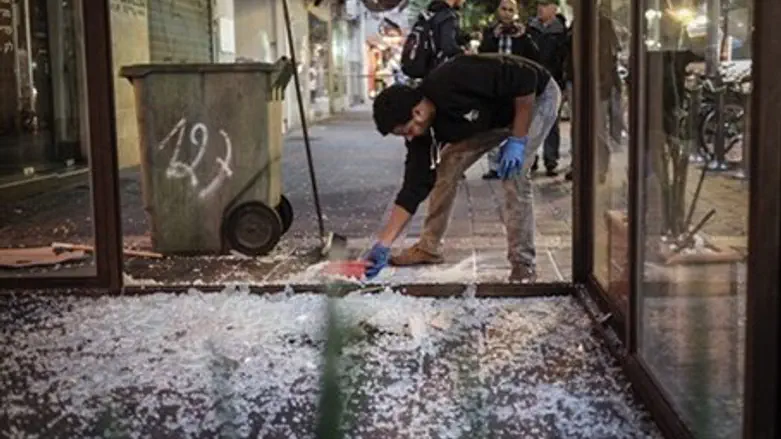 Scene of Friday's shooting attack in Tel Aviv
Tomer Neuberg/Flash 90
Over five days have passed since Nashat Melhem, an Arab citizen of Israel from Wadi Ara in the north, murdered three people in Tel Aviv, but despite the massive manhunt trying to track him down the terrorist remains elusive.
Nashat murdered two people in a Tel Aviv pub last Friday, and an hour later he apparently murdered a taxi driver as well.
Security forces on Wednesday morning have moved the focus of the search to the northern "triangle region," and area that is home to over 300,000 Arab Israelis. Large police forces are scouring the region.
Former police commissioner Assaf Hefetz told Yedioth Aharonoth that it is within the realm of possibility that Melhem will only be tracked down after a very long period of time.
"It is possible that the terrorist Nashat Melhem will be caught or found only in a couple of years. That is certainly a possibility," he said. "The more days that pass the more he is pressured and needs food."
"The fact that time is passing and he hasn't been found could point to him not being alive anymore. This possibility is small, but time is passing and we see there is no activity, he hasn't exposed himself, he isn't shooting additional people."
"If he committed suicide you need to find him physically. If he is in a hiding spot that's more difficult," said Hefetz, while brushing off criticism against the police and saying he's certain they're using all means to try and locate the terrorist.
Lior Akerman, a former senior official in the Israeli Security Agency (ISA), told the news site that security forces are "waiting for a sort of mistake that he will make. At a certain point the rabbit has to come out of the hole."
"Usually when a lone terrorist hides, and it happened many times with Palestinian terrorists who hid in the field, you just wait for the first mistake that they make. Maybe he's waiting for the pressure to go down so that he can come out."
Police arrested Melhem's father Mohammed on Tuesday, along with five other family members and acquaintances of the terrorist. The police apparently suspect that the terrorist's family helped him escape and hide out, a suspicion given apparent strengthening by the revelation that Mohammed spoke with his son right after the attack.
Known violent tendencies from jail
In July 2007, Melhem was convicted of attempting to steal a soldier's gun at Karkur Junction to the east of Hadera, after he attacked the soldier with a screwdriver.
Officers who guarded Melhem during his time in jail revealed their shock that he was released, given his misconduct in jail - misconduct that was further revealed in court records by Channel 2 on Wednesday.
Melhem petitioned the court several times to ease his arrest conditions, but his requests were always rejected, with the reasons given exposing his violent nature that was apparently well known before his release.
In January 2011, he petitioned to be allowed out of jail to buy a wristwatch, but the court rejected the request on the grounds that the terrorist was liable to harm other prisoners and prison guards.
The response to the petition noted that the last time Melhem was given time out of jail under his father's supervision he was late in returning to jail by 20 hours. It added that he was found to be in possession of a spike, that he had struck someone, and that "he didn't integrate into the anger management group."
In July of 2011, Melhem's request to receive music CDs in jail was denied by the court over his violent behavior, and his possession of forbidden materials.
A year earlier in July 2010, Melhem asked to be let out to undergo laser eye surgery so as to be able to see without glasses, but his request was denied by the court over concerns that he would take advantage of the permission to escape.