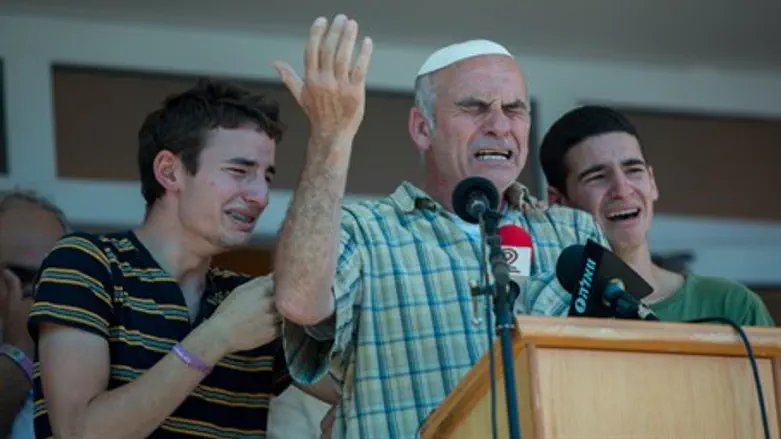 Eliezer Rosenfeld at his son Malachi's funeral
Yonatan Sindel/Flash 90
The prime suspect in the Duma case told investigators that he wanted to avenge the murder of Malachi Rosenfeld, but Malachi's father, Eliezer Rosenfeld, rejects the act as well as the perpetrator.
"What are we, barbaric animals?" wondered Rosenfeld in an interview with Kol Chai radio.
Denouncing such actions as a "miserable form of revenge," Rosenfeld insisted that the truly Jewish response to atrocities was to avoid sinking to the level of those responsible.
"Every time we get thrown into some sort of ordeal we manage to rise above it all. Now we are thrown in again. To learn that the Duma attack was revenge may seem as if it was done as a compliment, but it is actually a miserable payback. We are very angry about it."
Rosenfeld emphasized that while such revenge attacks may be common in the Arab world, "this is not our way."
"If a kid hits you in class, are you going to hit his brother? What are we, barbaric animals? The Arabs may be barbaric and bloodthirsty but that is how they are raised, we have no command to shed innocent blood. Our revenge is only by a court, or by the vengeance of God."
"This is not our way, and additionally this is desecration to God. I do not want to think what will happen to our cruel enemies," said Rosenfeld.
Eliezer Rosenfeld's words echoed a statement by his wife Sara, who in an earlier interview with Channel 10branded reports that the Duma murders were committed in revenge for her son's murder "a slap in the face."