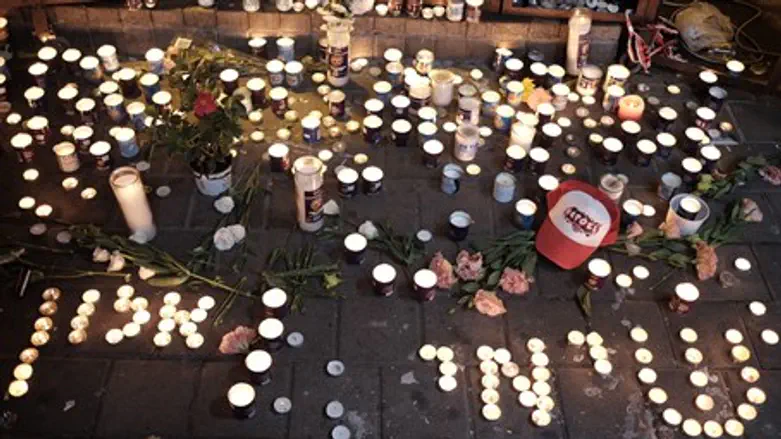 Scene of Tel Aviv shooting
Photo: Tomer Neuberg, Flash 90
Thousand attended the Sunday afternoon funerals of the two victims murdered in Friday's shooting attack on Dizengoff Street in Tel Aviv.
Alon Bakal, 26, from Tel Aviv, was laid to rest in the Karmiel cemetery while Shimon Ruimi, 29, from Ofakim, was buried in the cemetery of his town.
Alon Bakal
Photo: Courtesy of the family
In the Karmiel cemetery David Bakal eulogized his son, Alon, and said to the crowd of about 2,000 people: "We are left here broken while you are up there with your wonderful soul. Aloni Aloni Aloni. We love you forever."
"Alon, my cherished and beloved son. How can I write a farewell to a boy who has not even reached the age of 27, what can a father say? What a good head you had on your shoulders. You told me 'we will achieve a goal, and then look for a new goal'. You were so giving; you collected goods for Holocaust survivors and wanted to help even more. Everyone knew that you will go far in life.  You had love for humanity and love for your country. You were the best."
Nitza, Alon's mother, added: "We had a child and now he is gone. Alon, my dear boy. My prince. I always carry a heavy burden, but this extreme pain is just unbearable."
Deputy Minister Yaron Mazuz attended Bakal's funeral, as did MK Yair Lapid who said, "young men do not have a will, but out of the words you have written, a will developed. Your words illustrate a life lived out of love for Israel."
"The sky is crying over your death"
In Ofakim, about 2,000 people attended Shimon Ruimi 's funeral. His aunt, Mor Peretz, eulogized him: "Today we stand here and instead of celebrating your birthday we bury you. No parent should bury their son. Now we understand the term 'premature'. May God avenge your blood. You have become the child of everyone. In recent days we have seen how much the sky is crying over your death. You've never done anything harm to anyone, you were an angel. God took the best one of all."
Mayor Itzik Danino of Ofakim eulogized: "Dearest Ruimi family, you are beloved in the hearts of everyone in Ofakim and all the people of Israel cry with you. You raised a child for the glory of Israel. A beloved brother and a faithful friend."
MK Ofir Akunis, said: "Shimon was killed by a bloodthirsty terrorist just because he was Jewish. While we sanctify life, the murderer and his accomplices sanctify death."
Shimon Ruimi
Photo: Courtesy of the family
Shaban's funeral: "He was a good man"
Hundreds of family members and friends attended the afternoon funeral procession Amin Shaban, the taxi driver from Lod whose body was found about an hour after the attack on Dizengoff Street occurred. It is suspected he was murdered by the same Arab Israeli terrorist. He is survived by his three wives and 11 children. 
"He was murdered in cold blood after he'd been tricked, if he knew that he had a terrorist in the taxi - he would have fought him," said a friend.
Uncertainty still surrounds the circumstances that led to his murder.
"We still do not know is his murder is related to the attack," said Ibrahim, a relative of Shaban. "There are many rumors going around wondering if his death was criminal, but Amin had no enemies. He was a good man, everyone loved him, he got along with everyone, he only wanted to support his family with dignity."
Amin Shaban
Photo: Courtesy of the family
The manhunt for Nashat Melhem continues Sunday, after he murdered Alon Bakal and Shimon Ruim and wounded seven others. Four of the wounded victims are being treated in hospitals - two are lightly wounded and in Ichilov Hospital, one is moderately wounded in Tel Hashomer, and one is lightly wounded in Beilinson Hospital.