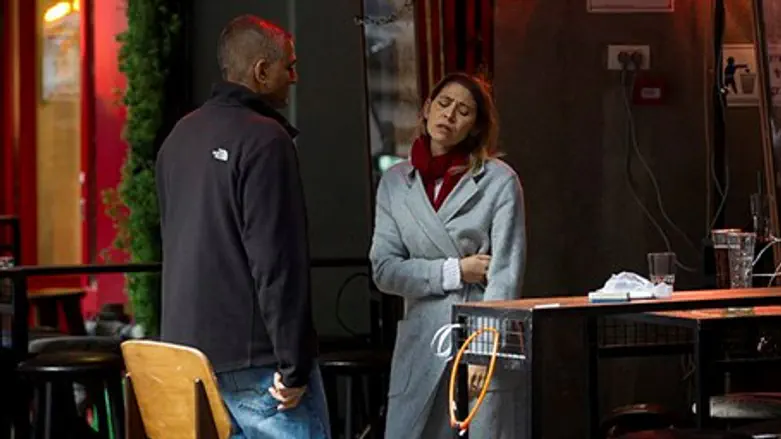 Scene of Dizengoff shooting.
Miriam Alster / Flash 90
According to several reports from the murderous terror attack in Tel Aviv Friday, at least one of the bystanders at the scene of the attack was armed with a handgun, but he failed to use it against the terrorist.
David Malka, who owns the Sidewalk Café, which is located at the scene of the attack, said that the terrorist "ran in our direction and kept on firing. Three bullets struck here, and he hit [the] Japanika [restaurant] as well. He ran toward Gottlieb street. Me and two other guys chased after him. We had no weapons. He pointed the weapons at us, and by the time security forces arrived, he had disappeared. I saw him right in front of my eyes and I identified him in the security camera footage.
"One of the guys, who wore civilian clothes, carried a weapon, but he did not draw his handgun," said Malka, who was cited on several news sources. "I don't know who the guy was. There were three or four of us. We told him to shoot, but he didn't fire. He didn't function, it seems he was in some kind of shock."
While it is certainly possible that the man with the handgun was in a state of shock, another possibility being floated by many on social media is that he was afraid of being prosecuted if he fired at the terrorist.
Since the start of the current terror wave, media personalities and politicians from the radical Left have been campaigning to try and keep security forces and civilians from firing at terrorists. Many were shocked when the Attorney General instructed the Department for Investigations of Policemen to summon for questioning a policeman who fired at a terrorist in Jerusalem.
The policeman was eventually cleared of suspicions he had fired at the terrorist after she no longer posed a threat.
Leftist women's groups, under the umbrella of the "Gun on the Kitchen Table" coalition, have succeeded over the years in getting the government to restrict the number of weapons issued to security guards and civilians in general, by claiming that the distribution of weapons will increase the chances that men will use them to kill their domestic partners. Meanwhile, the number of illegal guns in Arab communities is believed to be sky high, and the Tel Aviv terrorist used a gun that his father held with a permit.