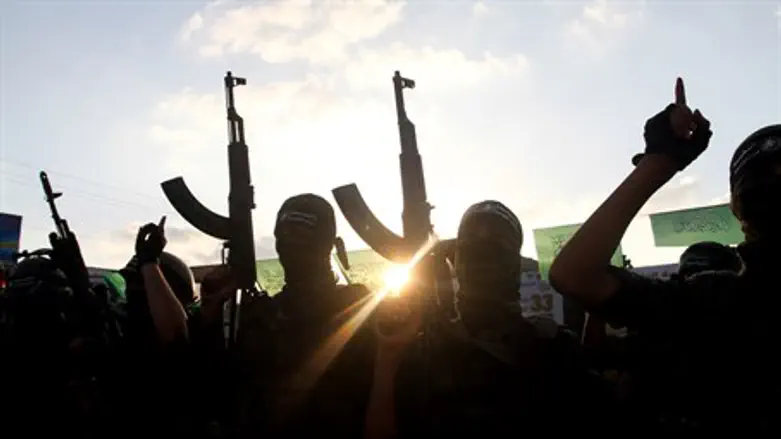 Hamas terrorists with Kalashnikov guns (file)
Abed Rahim Khatib/Flash 90
Khalil al-Haya, a member of Hamas's political bureau, declared on Saturday that Hamas will not participate in meetings of the preparatory committee of the Palestinian National Council, the parliament of the Palestine Liberation Organization (PLO), because the group is not part of the PLO.
Al-Haya said Hamas was ready to join the preparatory committee within the framework of a comprehensive reconciliation agreement to establish a new Palestinian National Council to support the "intifada".
In an interview with Hamas's Palestine newspaper, Al-Haya said that the first step should be the convening of a meeting of the PLO's interim leadership to discuss two issues: The latest terror wave, which Hamas refers to as the "Al-Quds Intifada", and the mechanisms for implementing the reconciliation agreement between Hamas and Fatah.
Al-Haya accused Palestinian Authority chairman and Fatah head Mahmoud Abbas of being unwilling to accept the principle of partnership and of striving to achieve exclusivity in the Palestinian leadership.
Meanwhile, Ismail Radwan, another senior Hamas leader, also rejected Abbas's call from last week to establish a national unity government because, as he put it, it was an attempt to circumvent the reconciliation agreement and require the government to act in accordance with the policy of the PLO with regards to Israel.
It should be noted that Hamas wants to integrate into the PLO in order to take control of the organization, which is internationally recognized as the sole representative of the Palestinian people, and whose Executive Committee is defined by the UN General Assembly as the "Provisional Government of the State of Palestine."
Hamas and Fatah are longtime rivals which have continued their never-ending war of words despite a unity agreement signed in April 2014 which sought to end seven years of bad blood.
The unity government between Hamas and Fatah collapsed in June when Abbas decided to dissolve it amid a deepening rift between the sides.
Since then, the sides have continued to verbally attack one another, with Hamas making the harshest of the comments.
PA Prime Minister Rami Hamdallah has criticized Hamas for creating a shadow government in Gaza and blocking efforts to reach political unity.
Hamas has in turn accused the PA of executing a plan to "eradicate" the movement from Judea and Samaria, saying that an arrest campaign of over 200 members was carried out by the PA to target reconciliation efforts between the two factions.