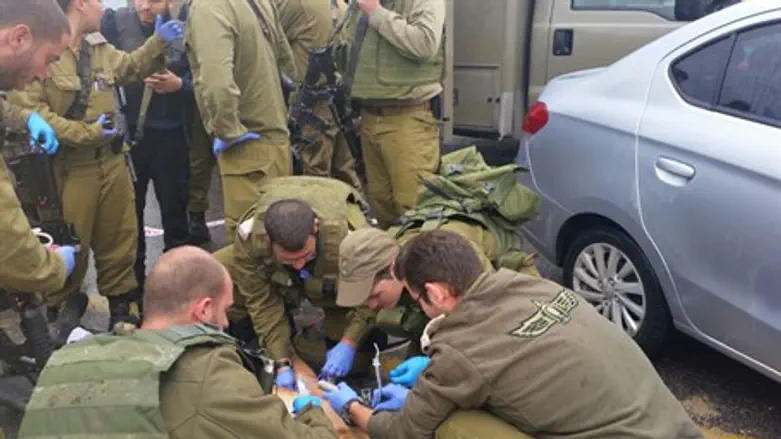 Scene of terrorist attack near Huwara
Shomron Regional Council
Representatives of the major Palestinian Arab organizations gathered on Monday in Ramallah to discuss how to escalate the current terror wave against Israel, which they are calling the "Al-Quds Intifada".
In a statement released at the end of the meeting it was noted that "the assassinations of our people (Palestinians) in the streets amount to war crimes and crimes against humanity".
The Palestinian organizations called for a continuation of the intifada in all points of friction, military checkpoints in Judea and Samaria, and on the outskirts of the cities, primarily on Tuesdays and Fridays, and for a boycott Israeli products.
The goal of the Palestinian struggle, according to the statement, is to achieve "freedom, independence, securing the right of return of refugees, [and] the establishment of an independent Palestinian state with its capital in Jerusalem and sovereignty".
The statement follows a call last week for Palestinian Arabs to escalate the current terror wave against Israelis in the form of a "Day of Rage" every Tuesday and Friday.
The Islamic Jihad terrorist organization last week praised the current terror wave, which it described as a "knife revolution" and announced that it will not hesitate to escalate the "intifada" if necessary.
The Islamic Jihad's comments followed similar ones by Hamas leader Khaled Mashaal, who called for an escalation in the "intifada" until the "forces of the occupation withdraw and go away".
It should be noted that in the period between September 13 and December 23, 99 stabbings, 35 shootings and 21 car attacks were carried out.
Those attacks killed 24 Israelis and 259 were injured, 24 of them critically.