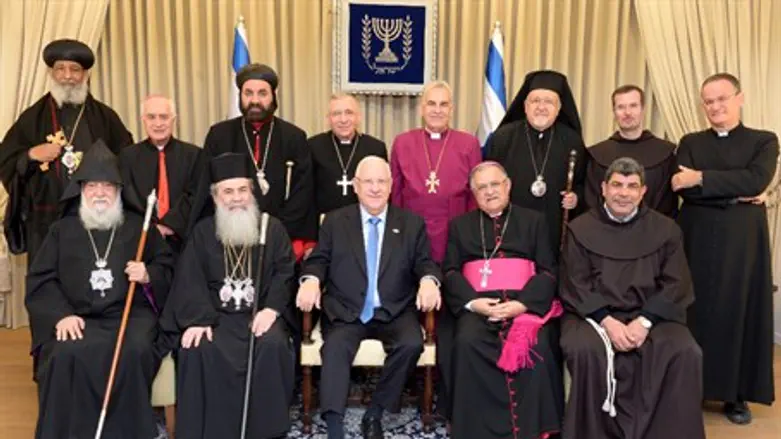 Christian community leaders with Rivlin
Mark Neyman/GPO
President Reuven Rivlin hosted the traditional annual reception for leaders of Israel's Christian community Monday, to mark the civil New Year. 
Speaking at the event along with Rivlin was Greek Orthodox Patriarch of Jerusalem, His Beatitude Theophilos III. In addition, the event was attended by heads of various churches in Israel, senior members of the community, and representatives of the Israeli government.
Rivlin began by noting that the last year had marked fifty years since the Nostra Aetate declaration, which defined the Catholic Church's policy against anti-Semitism and - as the President noted - paved the way for dialogue between the Jewish and Catholic communities.
"I was honored this year to meet with the Pope in the Vatican, where we spoke about how this relationship has grown stronger over the years," he stated. "I appreciate very much what he said against anti-Semitism, and against converting Jews."
"His message of understanding and acceptance reflects both Christian and Jewish ideas – 'Love your neighbor, like yourself'," he continued. "Pope Francis said, 'A true Christian cannot be an anti-Semite'. Let me say – a faithful Jew cannot be anti-Christian or anti-Muslim. The Ten Commandments – holy to Jews and Christians – teach respect for God and respect for man. These values do not go against each other, they go with each other. At the same time, the Jewish and democratic values of Israel go hand in hand."
The President added, "I am proud that Israel protects the freedom of worship and expression for everyone, of every faith. It is not enough for us to only be a safe home for Christians. We want the community to prosper, and play a part in Israeli society."
He concluded by wishing the Christian communities a joyful festive season.
"Jerusalem is the center of the world," Rivlin said. "Billions of people look to this city in hope and prayer."
"We all have a duty - at the beginning of the New Year and every day - to stand together and show the world that the conflict in this region is not a war about religion, it is a war against hate," he continued. "We must work to build bridges between our communities, in the Holy Land and around the world. We must build dialogue, and show that people with different beliefs can live side by side, and even together; in schools and universities, in the workplace, in parliament, and even on the soccer field."
"This has been my mission as President, and it is a task which lies before all of us," he added. "This house, as the house of all the Israeli people, is your house too - my door is always open."
Mark Neyman/GPO
In response, representing the Church heads, Greek Orthodox Patriarch of Jerusalem His Beatitude Theophilos III said, "In this festive season, we greet you Mr. President, and wish to express our appreciation for the strong stand you have continued to take in demonstrating respect for all religions, and your condemnation of violence from whatever side it comes. We understand the importance in the region of healthy diversity of ethnic and religious traditions, with true coexistence, mutual respect, and security for all. We join you in these affirmations and condemnations. Allow us to reiterate our commitment to education based on the principles of moral values that derive from our common heritage.  This is paramount to the shaping of our social fabric."