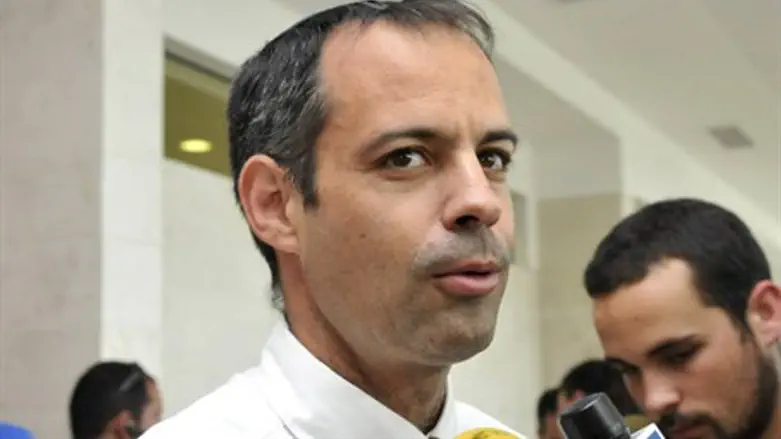 Attorney Adi Keidar. Archive
Photo: Flash 90
Following Deputy Attorney General Raz Nizri's visit to the detainees suspected in the Duma arson case, Attorney Adi Keidar from the Honenu legal rights organization wrote Sunday night an unprecedented letter to Nizri.
Keidar's letter raises serious allegations regarding the legality of Nizri's visit with the detainees, and raises concerns that during his visit, Nizri committed obstruction of justice, as well as an ethical violation.
"If you did indeed visit my client, then you have seen the severity (of the conditions)," began Keidar. "We are at the start of an investigation where my client's visitation rights were prohibited, including visits from doctors and probation officers only in accordance with the ISA (Israeli Security Agency). It is unclear to me why you decided to 'visit' my client without prior appointment or without meeting him face-to-face after receiving approval from the ISA."
"This was not a courtesy call or general visit or random inspection of the Shin Bet facilities. This is a very sensitive investigation and it is clear to any reasonable person that due to the improper means you established yourself by allowing my client's blood to be spilled by the brutal hands of the ISA interrogators, you finally woke up."
Keidar sharply attacked Nizri's granting authorization to use harsh measures during this investigation, including alleged ISA torture against the detainees.
Attorney Keidar reminded Nizri that complaints against the ISA were filed to the body responsible for examining complaints against accused ISA investigators, and further accused Nizri of obstruction of justice. "You know that we filed a strong complaint, and your visit to my client rises questions of obstruction of justice."
The attorney further noted that he intends to challenge Nizri against the Ethics Committee of the Bar Association, and that he plans to testify against Nizri in court about his strange behavior in holding the visit.
"The suspicion must be added that a serious ethical offense took place of conversing with a suspect represented by a different lawyer, this is something that will be examined by the Ethics Committee. I would like to place your visit on record and naturally you will be invited later to testify in court about the strange and radical behavior."
The Honenu organization said that copies of the letter have been sent to Justice Minister Ayelet Shaked (Jewish Home), the state comptroller Yosef Haim Shapira, to the the Civil Service Commission and the Ethics Committee of the Israel Bar Association.
The suspects will be brought to Petah Tikva Magistrates Court Monday morning. A scheduled demonstration outside the court will take place by the suspects' families and other activists in protest of the investigation.