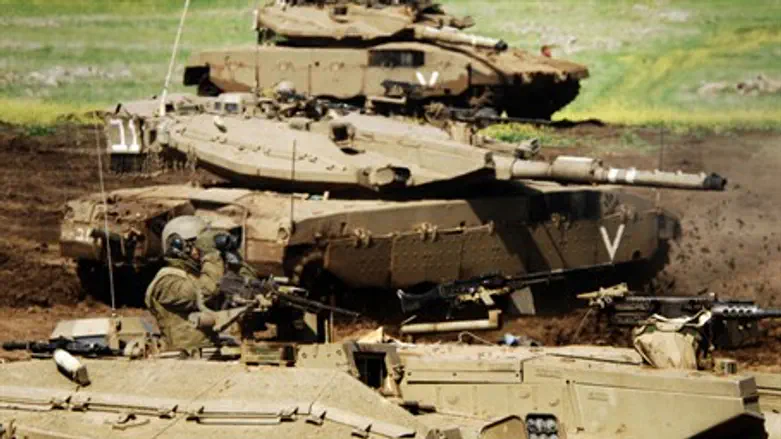 Golan exercise (file)
Flash 90
A provincial official on the Syrian side of the Golan Heights said on Sunday that residents of the region plan to attack Israel in the near future, announcing intentions to set up a "resistance" front inside the Israeli side of the Golan.
Ra'afat al-Bokar, a member of the Syrian Quneitra Provincial Council, told the semi-official Iranian Fars News Agency on Sunday that officials are working to spur attacks in the "occupied" Golan Heights, a reference to the region liberated by Israel in the 1967 Six Day War.
"We will see the integration of popular resistance in both the free and occupied territories of the Golan Heights," pledged al-Bokar, calling for terrorism in the Golan Heights against Israel.
"I confidently say that the people have and will never halt their resistance; we will soon witness integrated efforts by popular resistance forces throughout the Golan Heights against Israel," he said.
In the Israeli Golan Heights several Druze villages are still loyal to the Syrian government, and residents of the villages have occasionally launched attacks in the past.
The talk of terror in the Golan coordinated from Syria comes just after the assassination of Hezbollah terrorist commander Samir Kuntar, allegedly by Israel, just over a week ago.
Dr. Eran Lerman, who up until two months ago served as deputy head of the National Security Council, told Arutz Sheva last Monday that Israel's hand was forced by the way Iran was using Kuntar to create a terrorist infrastructure in the Golan Heights.
According to Lerman, Iran was using Kuntar "in order to create among the Druze population and additional sources in the Syrian Golan Heights a base of influence and terror, in service of the Iranian interests.
"The intention of the Iranians, more than of the Syrian regime, is to turn the Golan Heights into a strategic potential base for direct action against Israel."