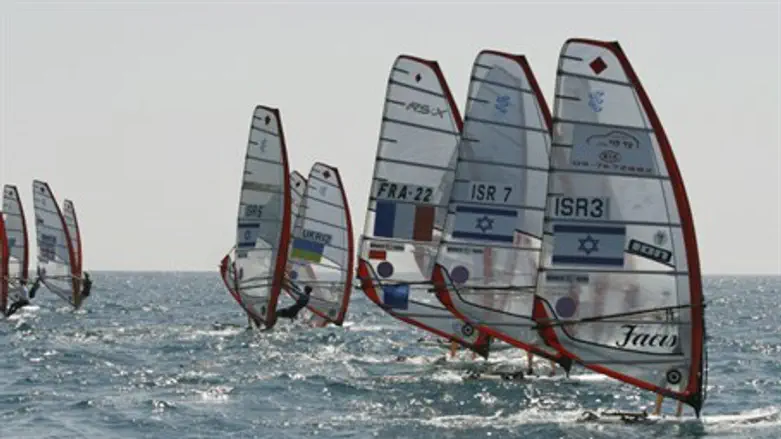 Israeli windsurfing competitors
Flash 90
World Sailing announced Sunday it will investigate reports after two Israeli windsurfers and their coach were denied visas to compete  at the Youth Sailing World Championships in Langkawi, Malaysia.
The Israel Sailing Association (ISA) said windsurfers Yoav Omer and Noy Drihan and coach Meir Yaniv would not attend the event because they had not received visas. ISA Chairman Amir Gill said that Malaysia had placed unacceptable demands by forbidding the delegates to compete under the Israeli flag, to use any symbol identifiable with Israel on their clothes or surfboards, and should an Israeli win a gold medal the Israeli national anthem would not be played.
"As we have yet to receive visas, 24 hours before the planned departure, and because of the limitations and difficulties imposed on us the organizing committee of Malaysia, we decided not to participate in the competition," said Amir last week.
World Sailing president Carlo Croce said in a statement that a member of its executive was traveling to Malaysia in order to investigate the issue and seek clarification from the Malaysian Organizing Authority.
"As with all diplomatic issues this is quite a delicate matter," said Croce, "World Sailing is aware of the current commentary in the public arena, and have reason to believe that some of the comments may not be accurate or possibly based on misunderstandings."
"World Sailing expects the organizing authority of its events to allow sailors from all nations to compete on an equal basis. This expectation is made clear in the bid process and is set out in the contractual documentation governing our events."
Malaysia, which is a Muslim majority state in southeast Asia, does not have diplomatic ties with Israel.