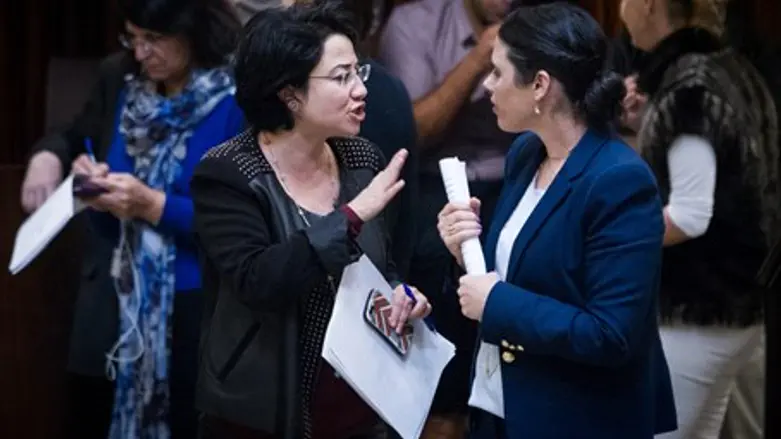 Justice Minister Ayelet Shaked proposed the bill
Miriam Alster/Flash 90
European states' underhanded funding of radical-left Israeli NGOs, with the express purpose of undermining Israeli government policy, necessitates legislation to force those NGOs to reveal the sources of their funding, an influential watchdog group has said.
Just hours before a Ministerial Committee on Legislation vote on a bill to force NGOs funded by foreign states to declare their sources of income, the NGO Monitor watchdog - which previously opposed such measures - has now said the initiative may be necessary.
In a statement Sunday morning, NGO Monitor said that "legislative proposals, such as the one introduced by Justice Minister Ayelet Shaked and discussed today (Sunday) by the government, might be unavoidable if European countries continue to fund anti-peace groups through secretive processes."
The bill in question is the latest incarnation of a string of failed initiatives - staunchly opposed by Arab and left-wing parties - to legally require NGOs that receive funding from foreign governments to register as "foreign agents."
Supporters and opponents have waged a bitter campaign in the run up to the vote, with the right-wing Im Tirzu student activist group stirring particular controversy with a viral clip singling out specific far-left activists as "foreign agents," and accusing them of directly supporting terrorism.
NGO Monitor has consistently opposed such measures, arguing instead in favor of a campaign - which it has been leading - to convince European officials to recognize that funding such organizations actually undermines the possibility of peace in the region.
But the group's head now says it has become clear that EU states have no intention of ending funding of extreme anti-Israel groups, regardless of the ultimate consequences.
"I have previously opposed various proposals to penalize Israeli political NGOs that receive millions of shekels from foreign governments (a total of 135 million NIS has been reported, January 2012-August 2015) for use in promoting false allegations of war crimes and fueling boycotts," said Professor Gerald Steinberg, president of NGO Monitor.
"My hope was that the public debate and exposure of the facts, both in Israel and among the European governments, media, and parliaments that provide the money, would lead to changes in policy. But without action by European funders, the Israeli government may have no choice but to act."
While opponents of the bill claim it amounts to an attack on freedom of speech, supporters note it does no such thing; the bill would not ban any NGO or limit their activities, but would merely bring transparency levels for state-funded NGOs in-line with those for privately-funded ones.
"Unlike private funding for NGOs, which is generally transparent to comply with regulations in the donors' home countries, foreign government processes which fund NGOs are often secret and violate national sovereignty," NGO Monitor further noted.
"Israel cannot legislate rules for Europe, but it can regulate Israeli NGOs, and demand foreign donations be made public and known – without limiting such donations or impeding freedom of speech."
"The real problem is in Europe, with irresponsible funding practices, not in Israel," continued Steinberg. "When European governments try to short-circuit Israeli democracy, they should not be surprised when there is pushback."